We are really excited to share some exciting news about our new inventory of PFx Bricks! We know you have been waiting patiently for them to arrive and we thank
...
August 12, 2019 Filed in:
News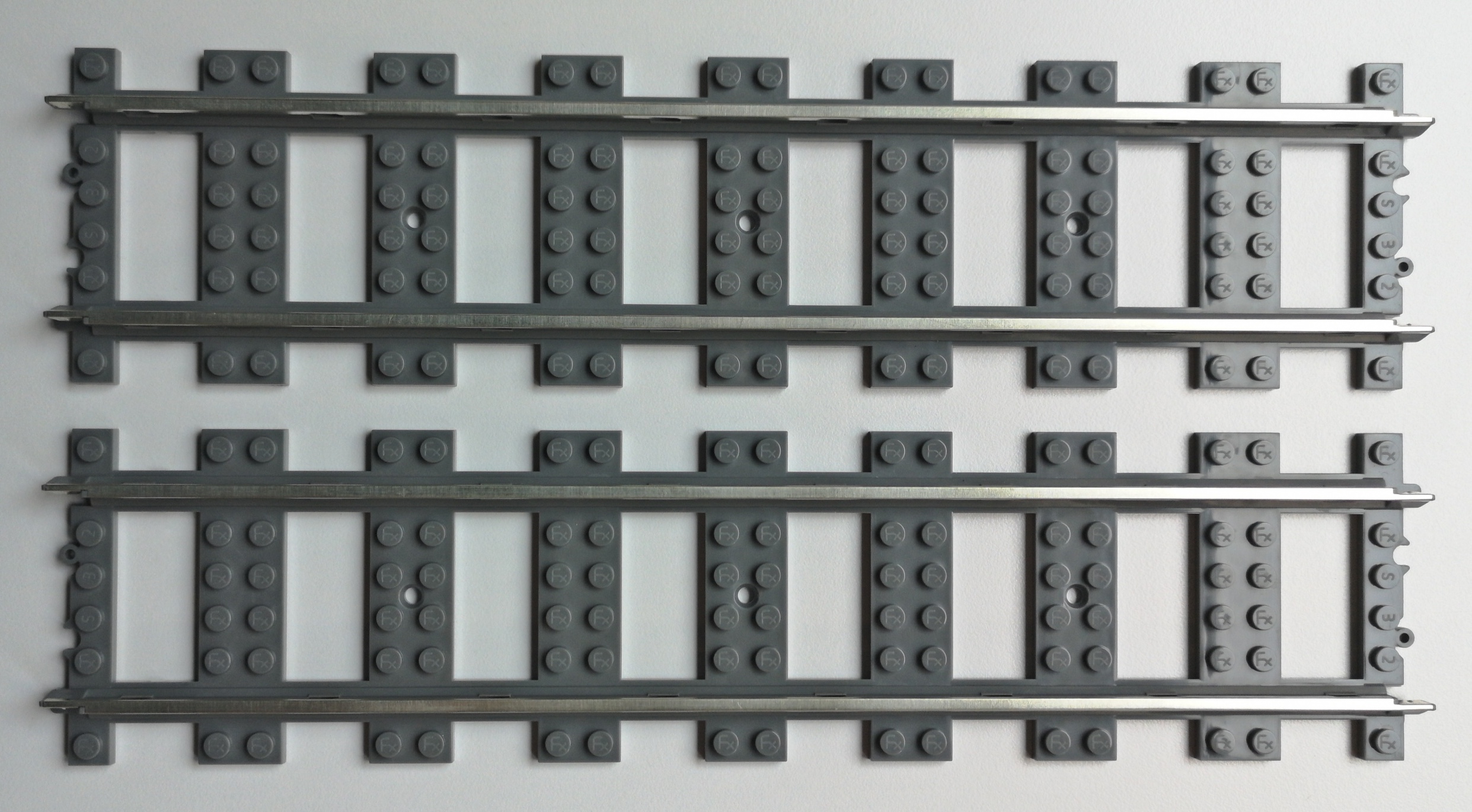 We recently received a new batch of S32 track samples from our manufacturers. These samples include the molded Fx logos on the studs as well as the track element ID molded directly to the stud tops on the connector plates at each end. The inclusion of element ID was based on suggestions from our fans during our product reveal at Brickworld Chicago last June. We thought it was a good idea and have therefore included it in every element mold and it is reproduced consistently on the end connector plates.
We're making steady progress and hopefully we will have R72 and R88 curve element samples very soon. In fact, I hope to have samples at Skaerbaek Fan Weekend in Denmark this September--it all depends on our manufacturing partners. We're very happy with the quality of the product so far and look forward to making our new track system available as soon as we can!
June 18, 2019 Filed in:
News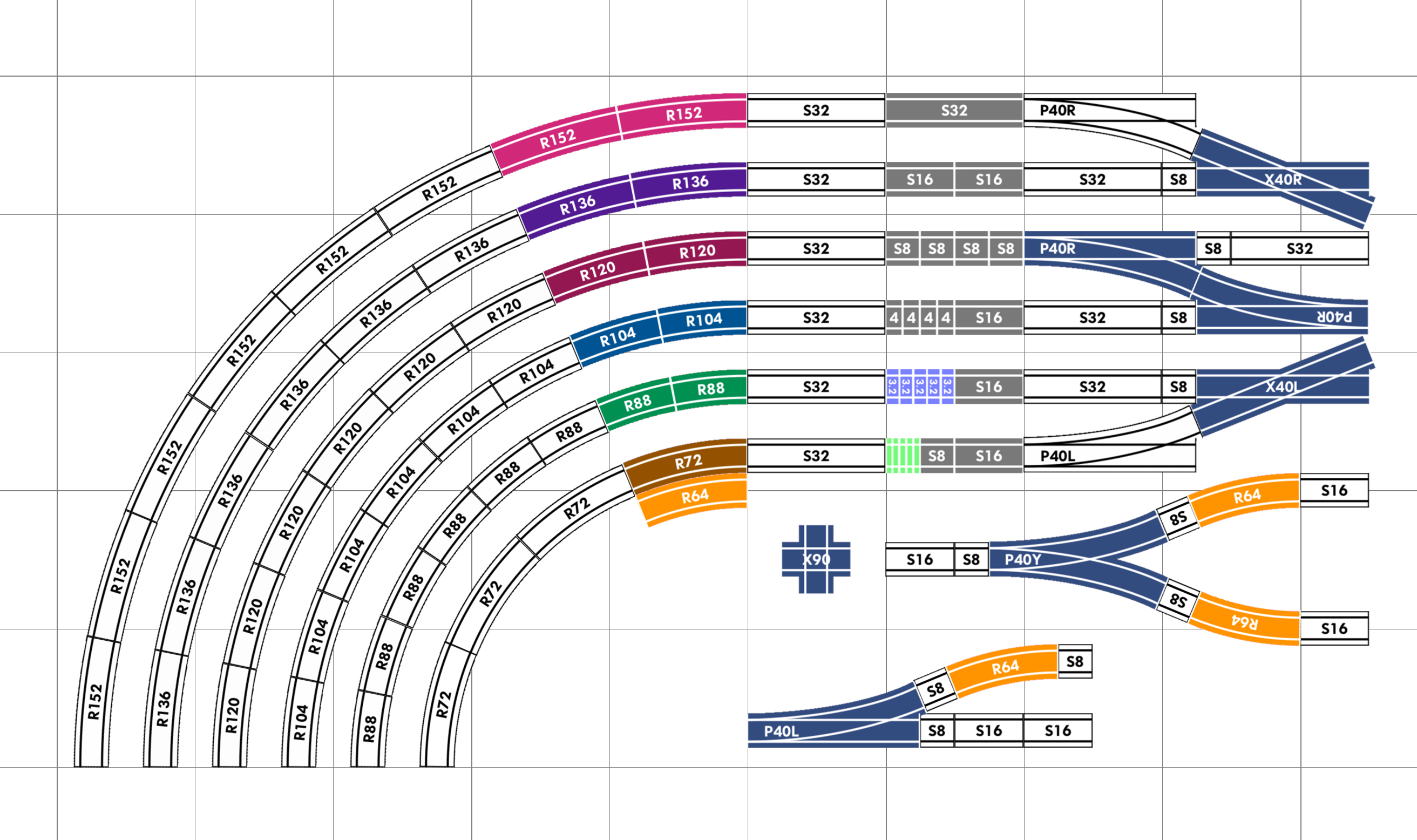 After many months of work behind the scenes, Fx Bricks is excited to announce an entirely new product range for LEGO® train fans! At Brickworld Chicago (Jun 2019), I had the opportunity to personally reveal our new Fx Track System to fellow train fans and hand out pre-production samples of the product. We were blown away by the response and received a ton of valuable feedback.
So why are we doing this? Well, other than the obvious answer of being huge LEGO train fans, the simple fact of the matter is that the LEGO train hobby suffers a credibility gap. A gap that results from not having the basic technological foundation that other model train scales have enjoyed for many decades. This includes a track system with a smooth and systematic geometry, metal conductive track and wheels for power delivery and control, motors with both high torque and speed, and finally a choice of control systems ranging from simple and reliable analog control to digital command control (DCC) systems.
Despite our best efforts to advocate for the legitimacy of the so-called "L-Gauge" standard as being a peer among the other model train scales, it has been easily dismissed as just a primitive toy. A view which is easily reinforced when watching an exquisitely scratch-built LEGO locomotive articulate itself to comical proportions around a corner and then simply stall because it has exhausted its battery or worse, run away helplessly since its Bluetooth or IR connection has dropped out of range.
Therefore, the L-Gauge hobby has long deserved a remedy of these fundamental issues; a remedy in the form of a new track system, reliable energy supply, reliable control schemes, and a cohesive range of accessory products. Fx Bricks is embracing the enormous time and energy (as well as significant risk) required to bring this product system to the LEGO® train community. It is a passion project in many ways. In conceiving the system, we drew enormous inspiration from the much loved and lamented LEGO® 12V System Train era (1980 to 1990). The 12V train system was a complete system of trains, track, accessories, spare parts--a system capable of warranting a catalog of its own.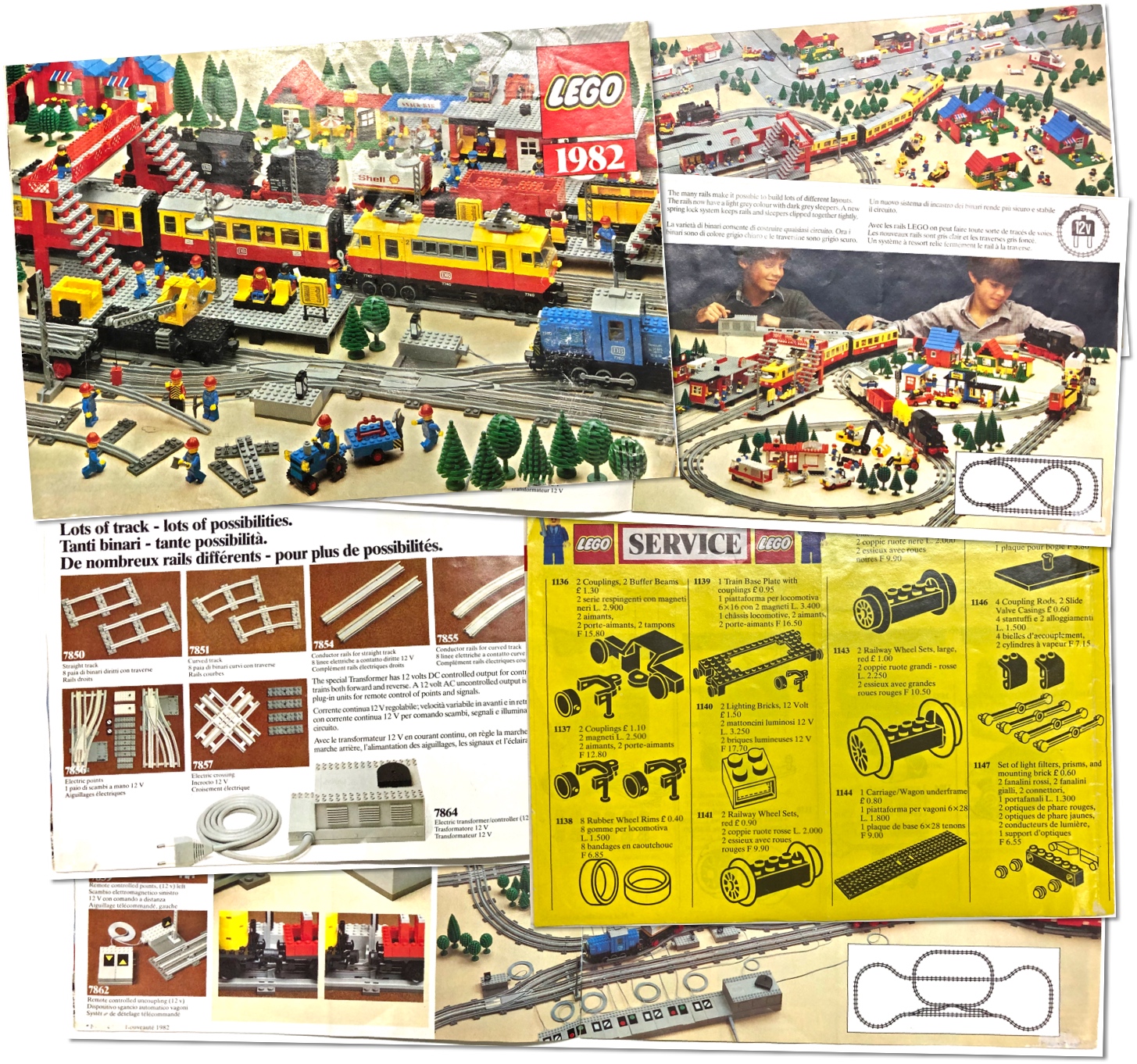 The "Golden Age" of LEGO® Trains, the 12V era of the 1980s

Drawing upon the inspiration from the past and recognizing the fundamental needs of today's LEGO train fans, we intend to deliver a "system". A system which becomes a foundation upon which LEGO train fans of all skill levels, experience and ambition can build and grow their hobby with confidence and of course fun!
For more detailed information about our new Fx Track System and product plan, you can download a PDF info document here.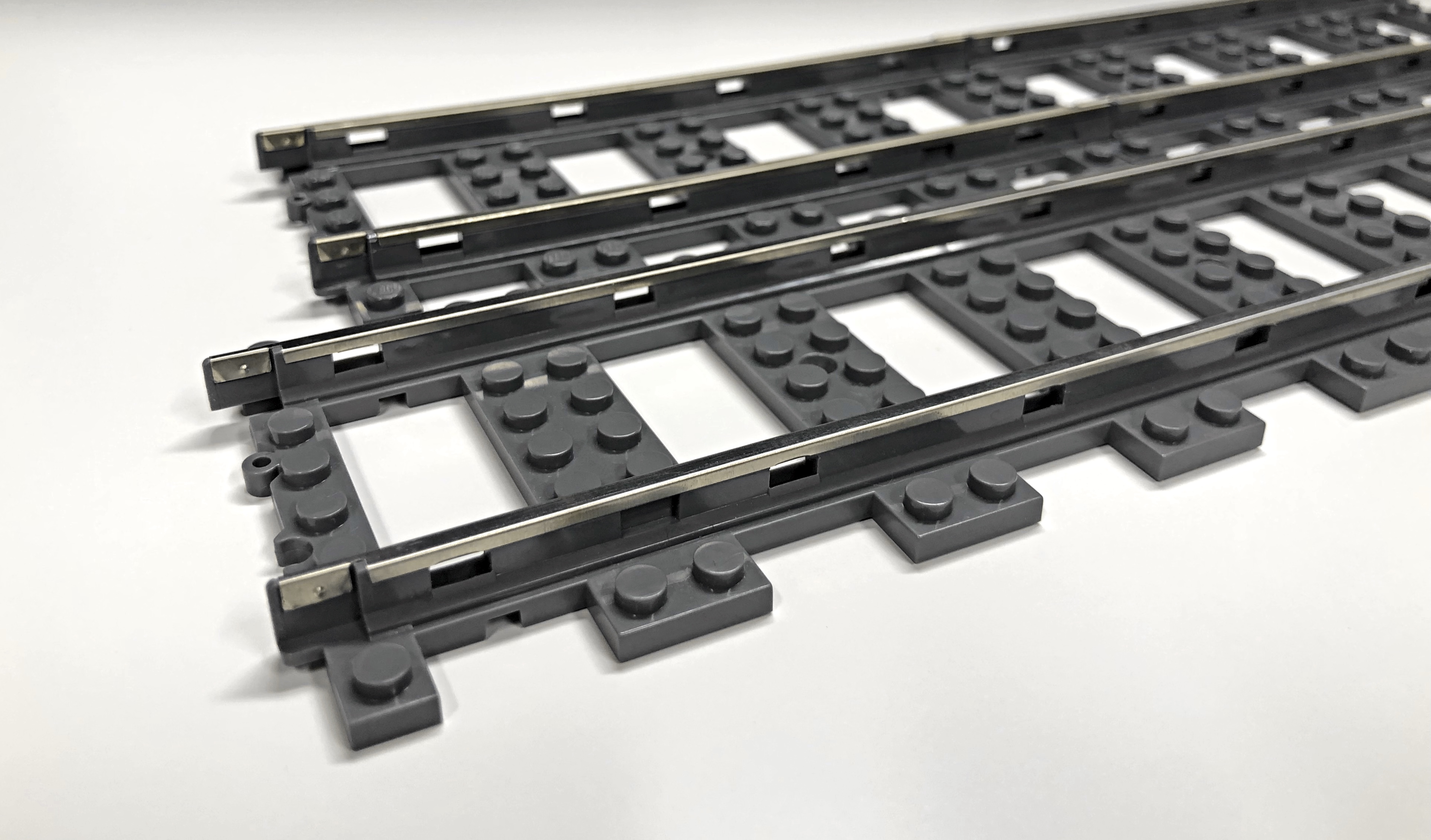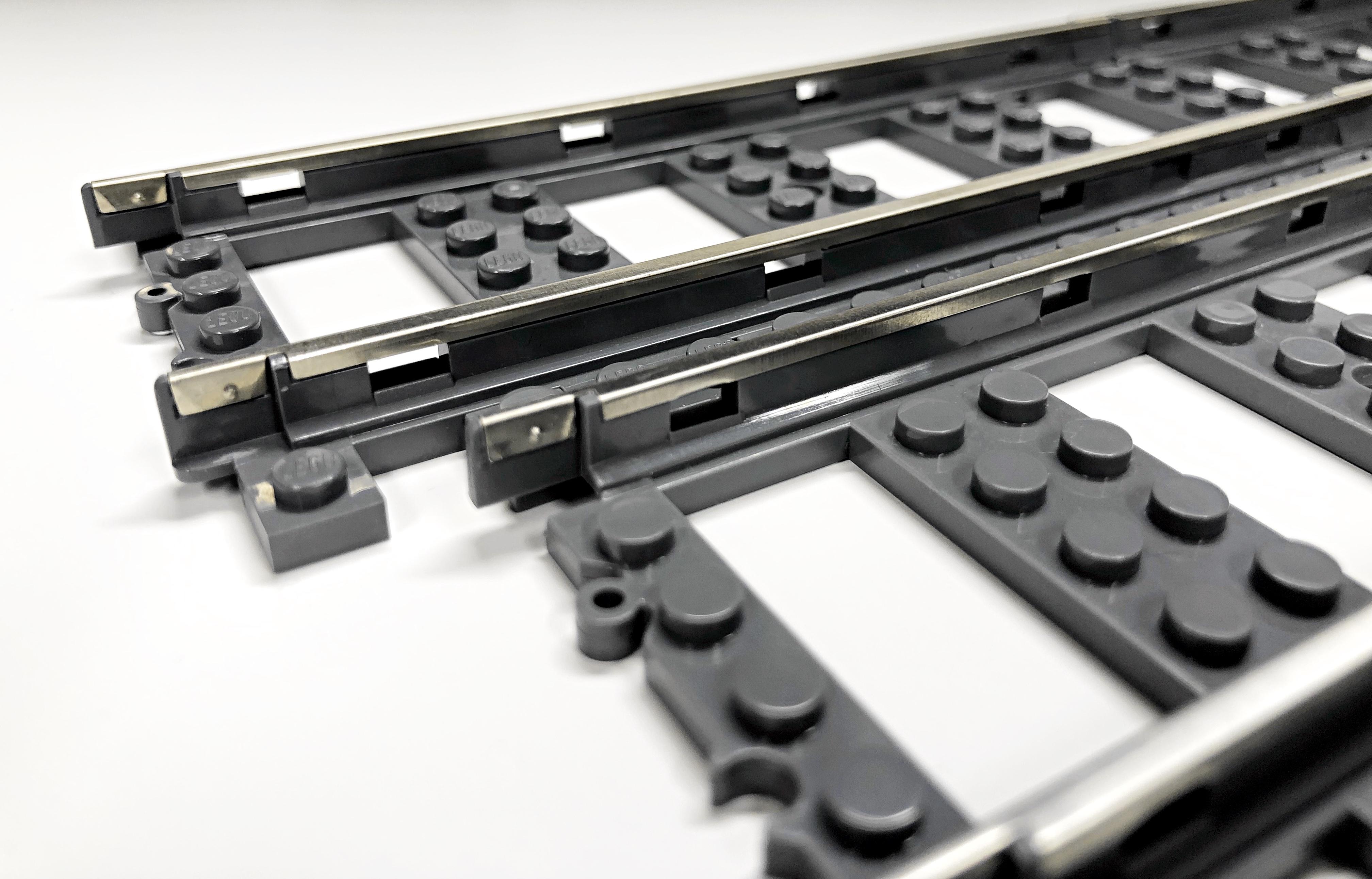 Pre-production S32 straight track (front), LEGO® 9V straight tracks (back)

Almost Sold Out of PFx Bricks
We are very close to selling out our initial production batch of 800 PFx Bricks. In anticipation, we have been working closely with Asian manufacturing partners to commission the manufacturing of 1000-2000 PFx Bricks with final assembly and test performed in Canada. These PFx Bricks will be electrically identical to the current generation bricks; however, we are excited to announce that they will be made with a new two-tone injection molded ABS enclosure! To reduce assembly cost and complexity, all PFx Bricks will be the 16 MB Bluetooth version, i.e. our top specification. Despite the new ABS enclosure, we are pleased to say that the cost of the PFx Brick will remain more or less the same with an estimated retail price of $129 CAD or approximately $98 USD. Furthermore, we are also investigating the manufacturing of the XL and M Speaker Bricks with injection molded ABS enclosures.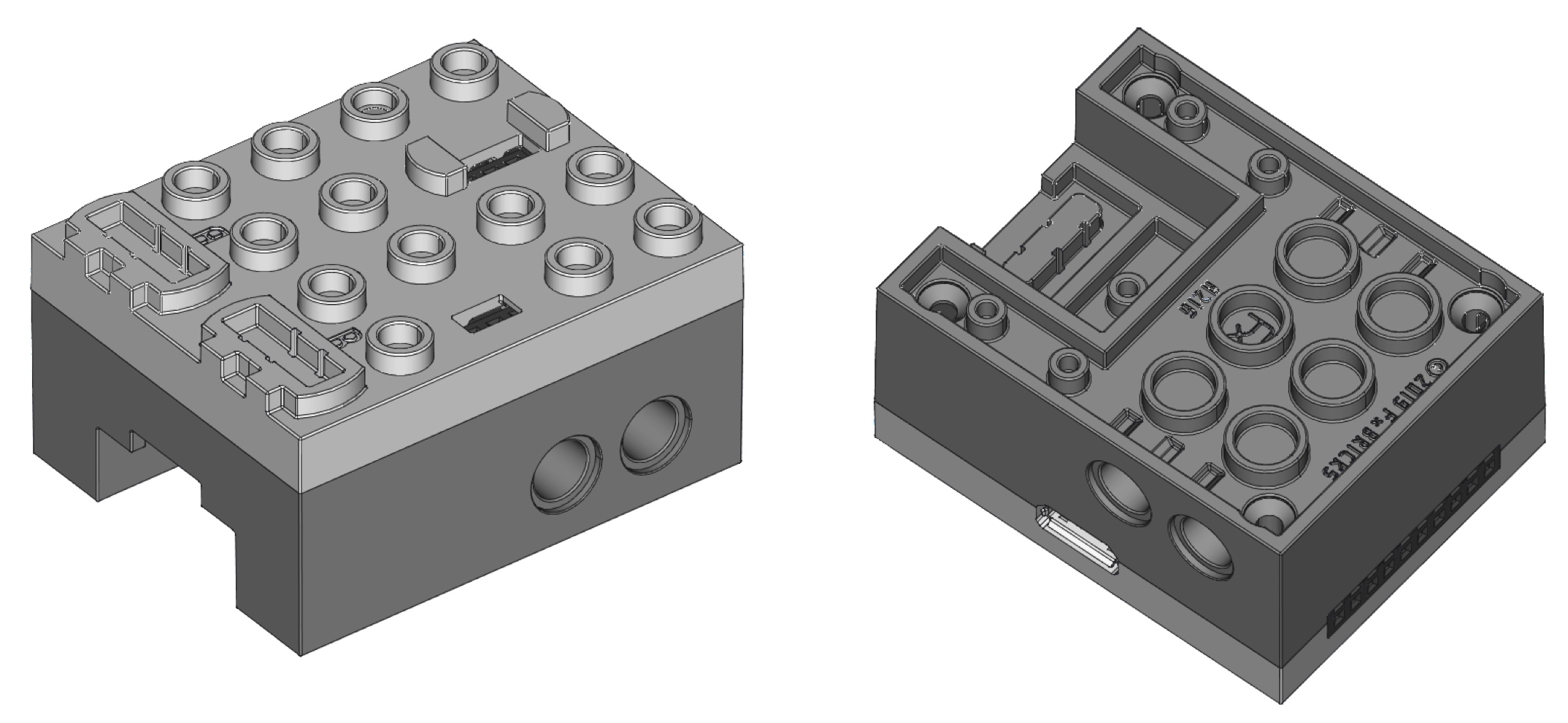 CAD rendering of new ABS injection molded PFx Brick enclosure in two-tone light and dark bluish gray.

Take your creations to the next level