2021 has been a very exciting year for us and there's a lot more good news to come! Firstly, we are so thankful and encouraged by the response to our Fx Track
...
December 4, 2020 Filed in:
News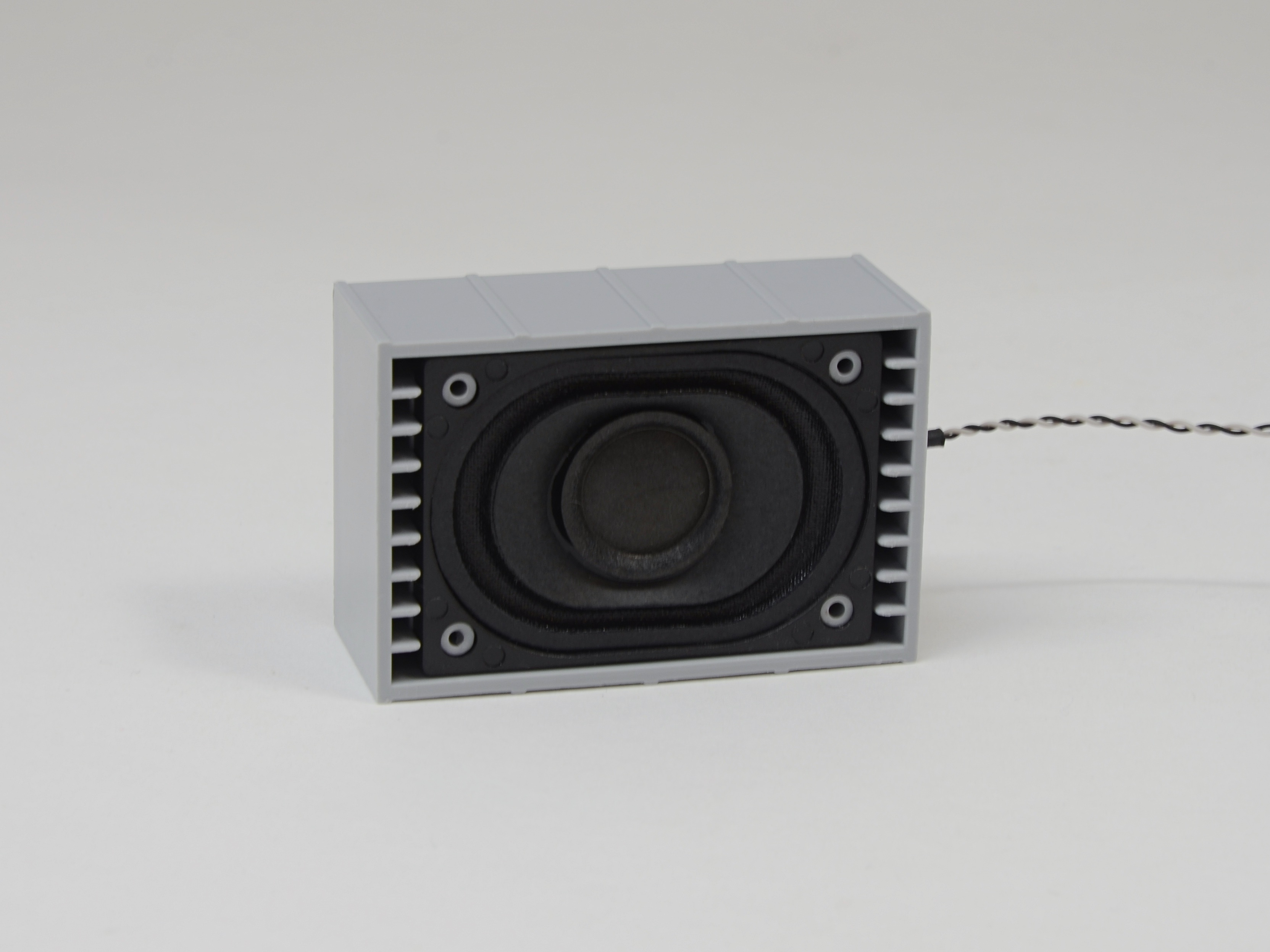 We are so happy to announce that the new XL Speaker brick is back! We finally received the first 200 of 1500 XL Speaker enclosures from our manufacturers. These new enclosures are injection molded in light bluish grey (LEGO medium stone grey) ABS plastic. The new design also incoporates an improved speaker cone with both a higher power rating and better frequency response. Furthermore, we engineered the enclosure for optimum sonic performance by designing a vented and reinforced box which securely mounts the entire speaker body from all sides. The enclosure design eliminates parasitic resonances with a system of internal ribs and struts to bolster the speaker cone and ensure an overall rigid structure. We are so impressed with its sound projection and clarity!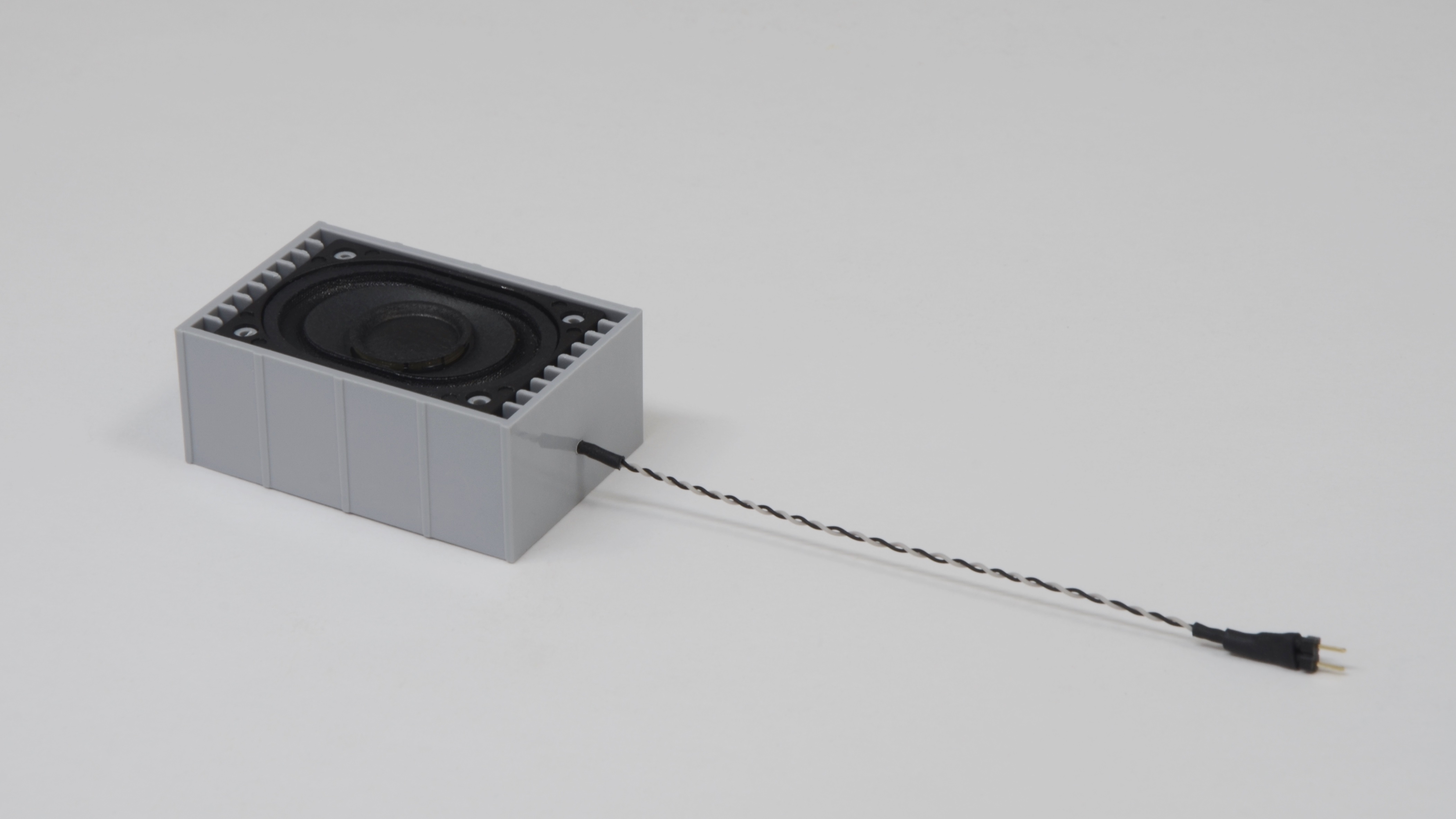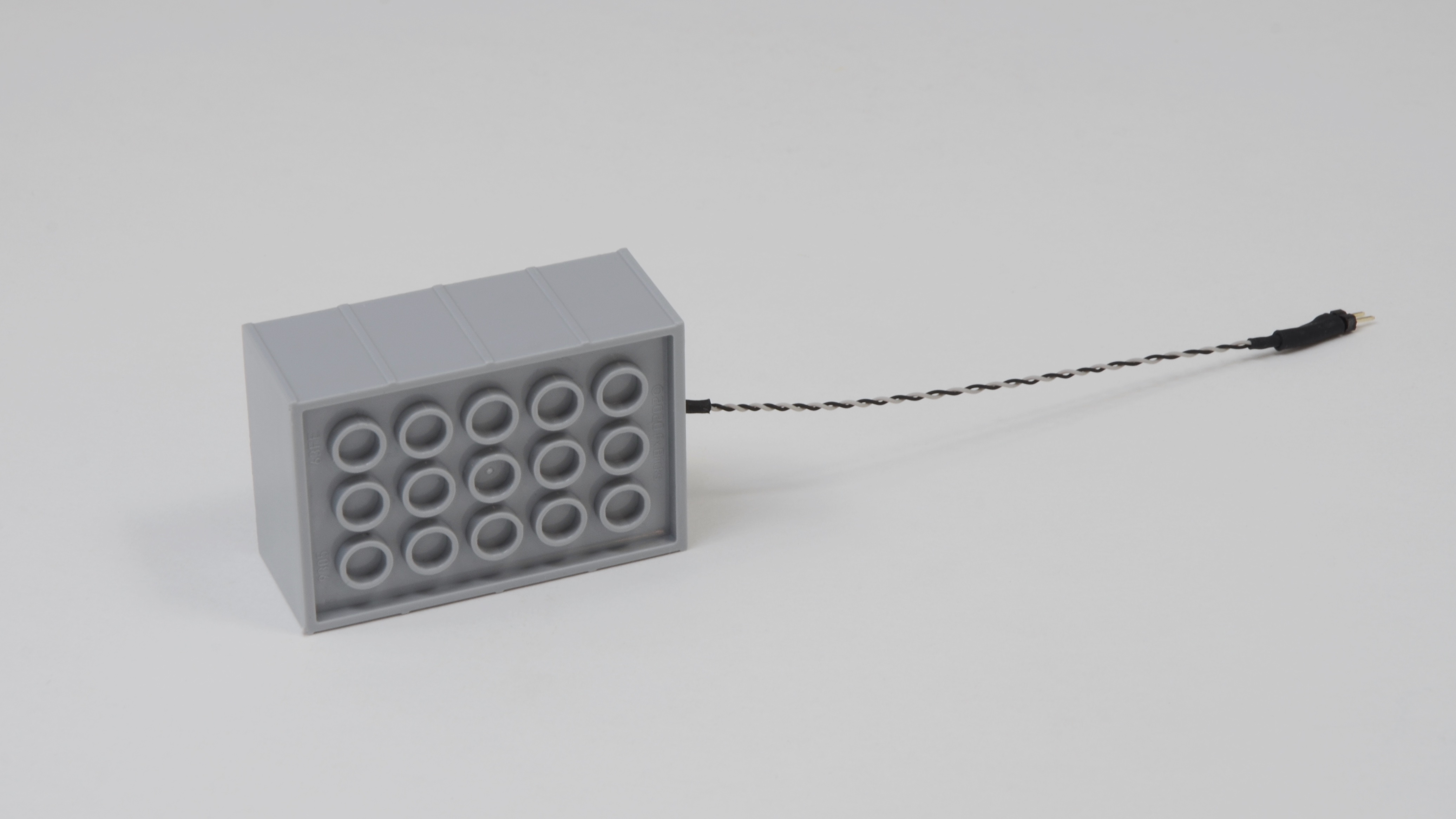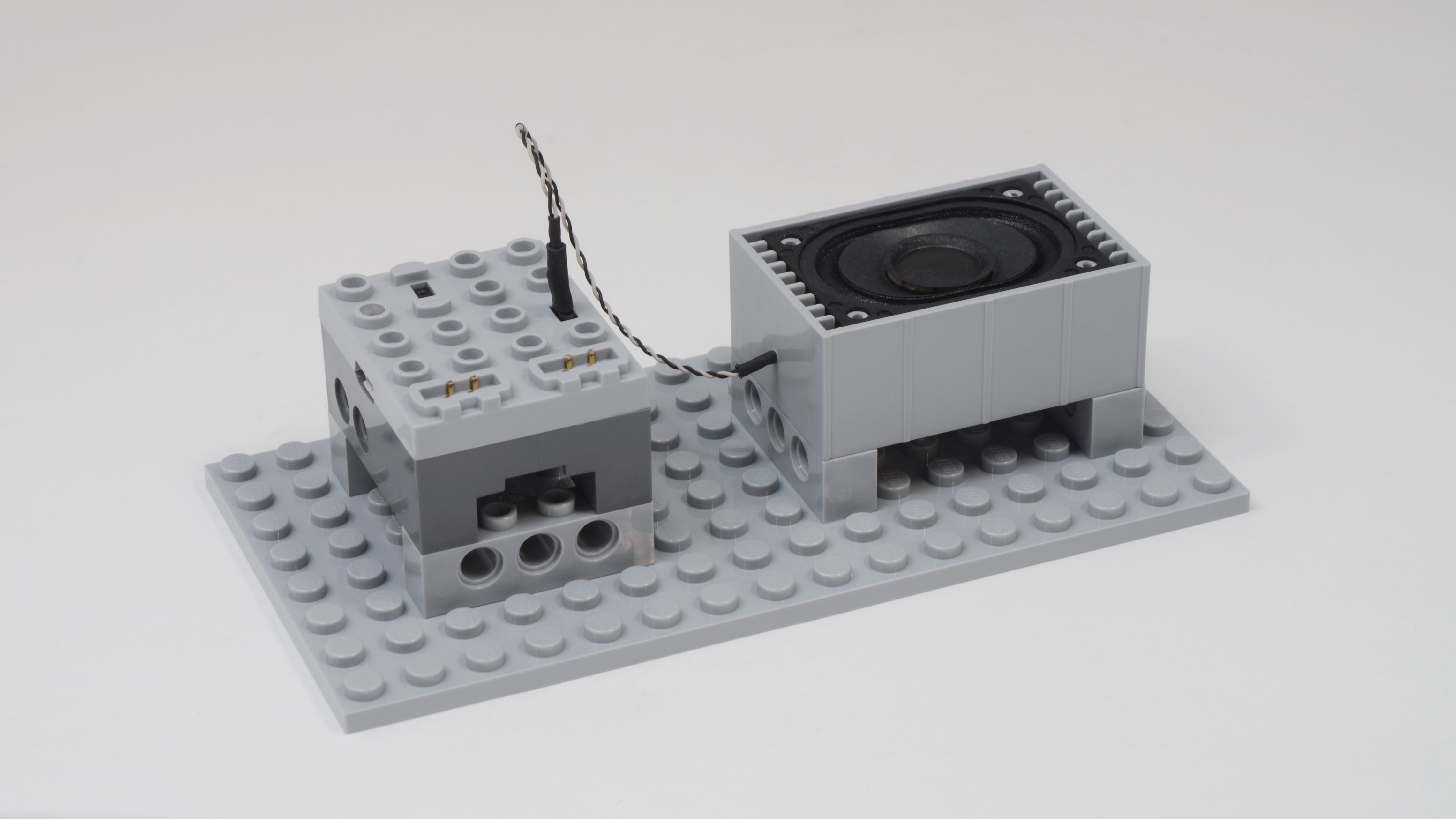 Specification
4 x 6 studs x 6 plates tall
32 mm x 48 mm x 19.2 mm (L x W x H)
Light bluish grey (medium stone grey) colour
100 mm connecting cable with 2-pin 2 mm pitch male connector
gold plated connectors
3 W continuous, 4 W max power handling
4 Ω impedance
82 dBA SPL @ 1 W / 0.5 m
200 Hz – 20 kHz nominal frequency response
October 7, 2020 Filed in:
News
Fx Track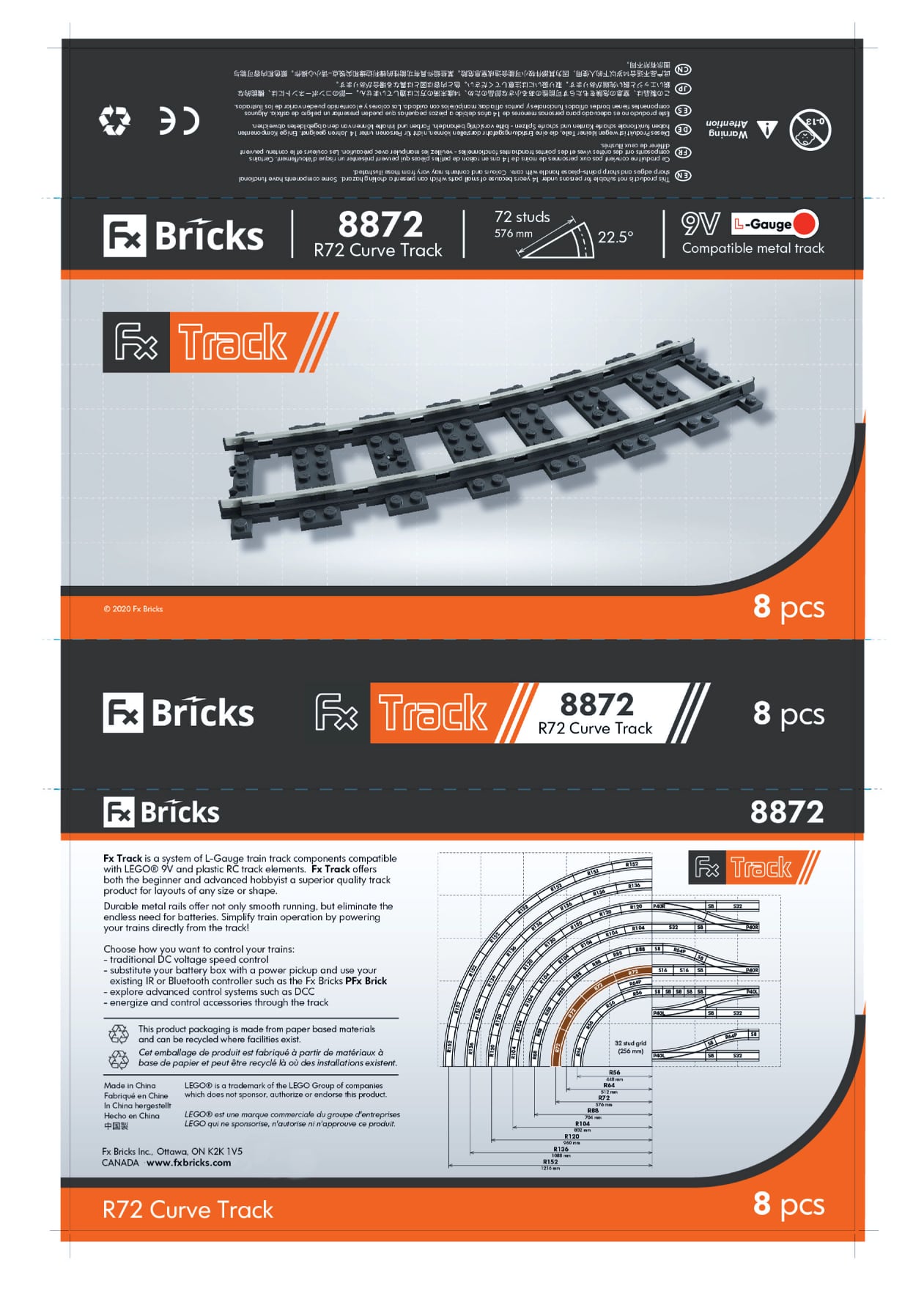 We are excited to announce that we gave the go-ahead to produce our first production batch of track elements! We will be producing 3000x units of the S32 straight track immediately and this will be followed by the R72 curve track. We've spent a great of time designing premium quality packaging which is based on 100% recyclable materials (paper based) with FSC environmental certification.

When we've received the production batches into our Hong Kong office we will then make the track available for sale on our webstore (announcements will follow). Initially, all orders will be dispatched from our Hong Kong location for shipping worldwide. Over time, we hope to redistrute some inventory to our Canadian location for distribution in North America. Also, we are in discussion with fulfilment partners for the European Union to hopefully have EU based inventory and distribution.
Our product release plan is as follows:
1. S32 straight track - available Dec 2020
2. R72 curve track - available early 2021
3. R88 curve track - available Q2 2021
4. S8 straight track - available Q2 2021
We hope that revenue from these items will allow us to commit early production on the remaining track items:
5. R56 curve track
6. S16 straight track
7. R104, R120 curve tracks
In parallel, we have obtained costs for the P40 switch production. Predictably, it is expensive! However, we are still committed to making it. The schedule will more or less depend on the sales performance of the standard track elements.
XL Speaker
Many folks have noticed the depleted inventory of speaker bricks. Since running out of our production batches of 3D printed speaker enclosures, we made the decision to invest in injection molded speaker bricks. Despite COVID-19, we were able to get expedited manufacturing and production of the new XL Speaker Brick!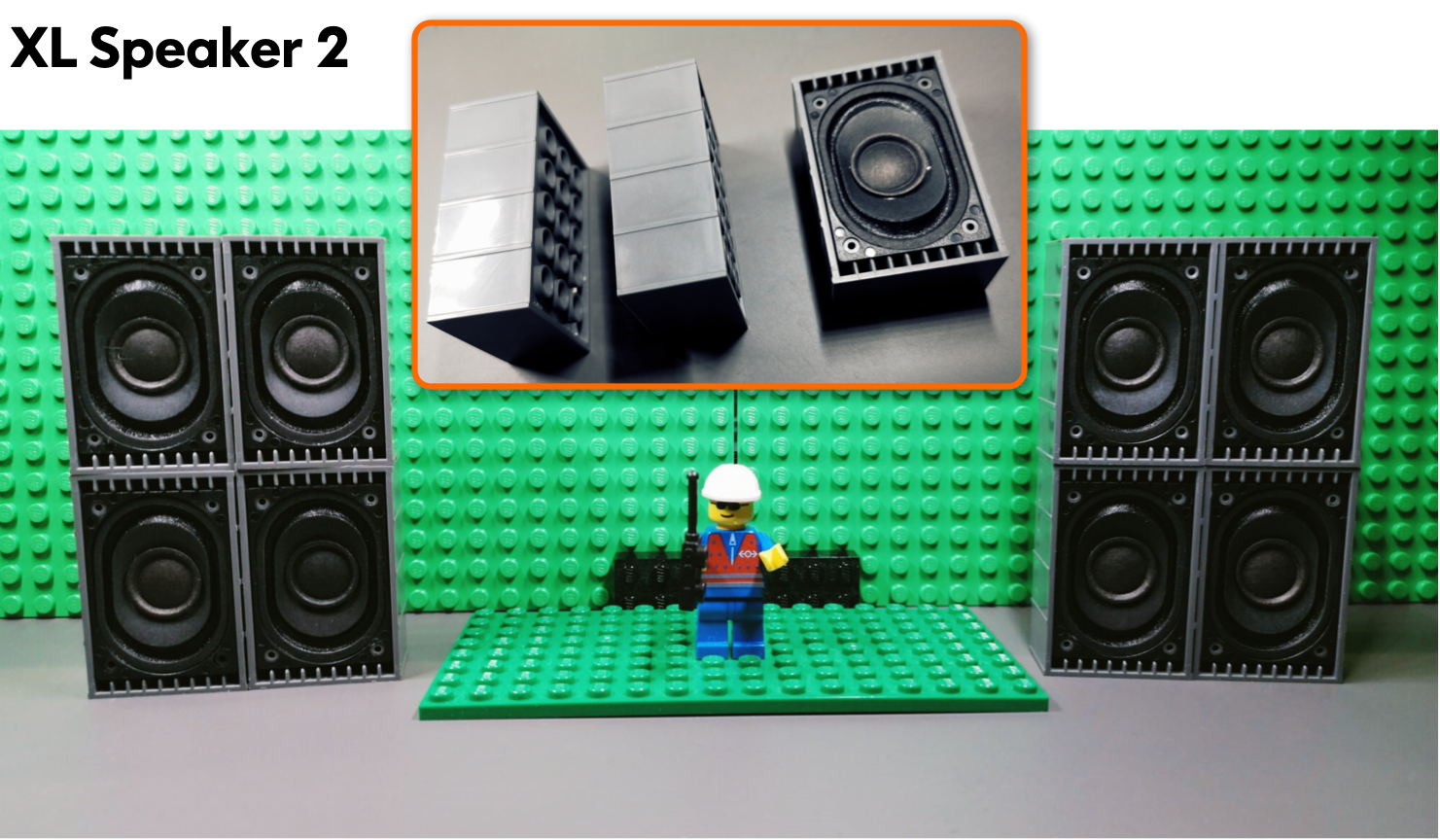 It includes an improved speaker cone and optimized sound box design. Most importantly, it looks and sounds amazing! We hope to receive initial production batches any day now and look forward to putting it back into the store very soon.
touchLAB PFx Brick Accessory
A new accessory product that will soon be released is the touchLAB. The touchLAB allow you to connect any LEGO® NXT 2.0 or EV3 touch sensor or your own push button to the PFx Brick. This button can then be used to trigger actions on the PFx Brick. You will be able to configure actions that trigger on any of the following events:

- button down
- button up
- button normal press
- button long press
The touchLAB is designed to be inserted into the lighting connector or anywhere within the lighting accessory connection chain. The touchLAB does not affect any of the 8x lighting channels and operates transparently.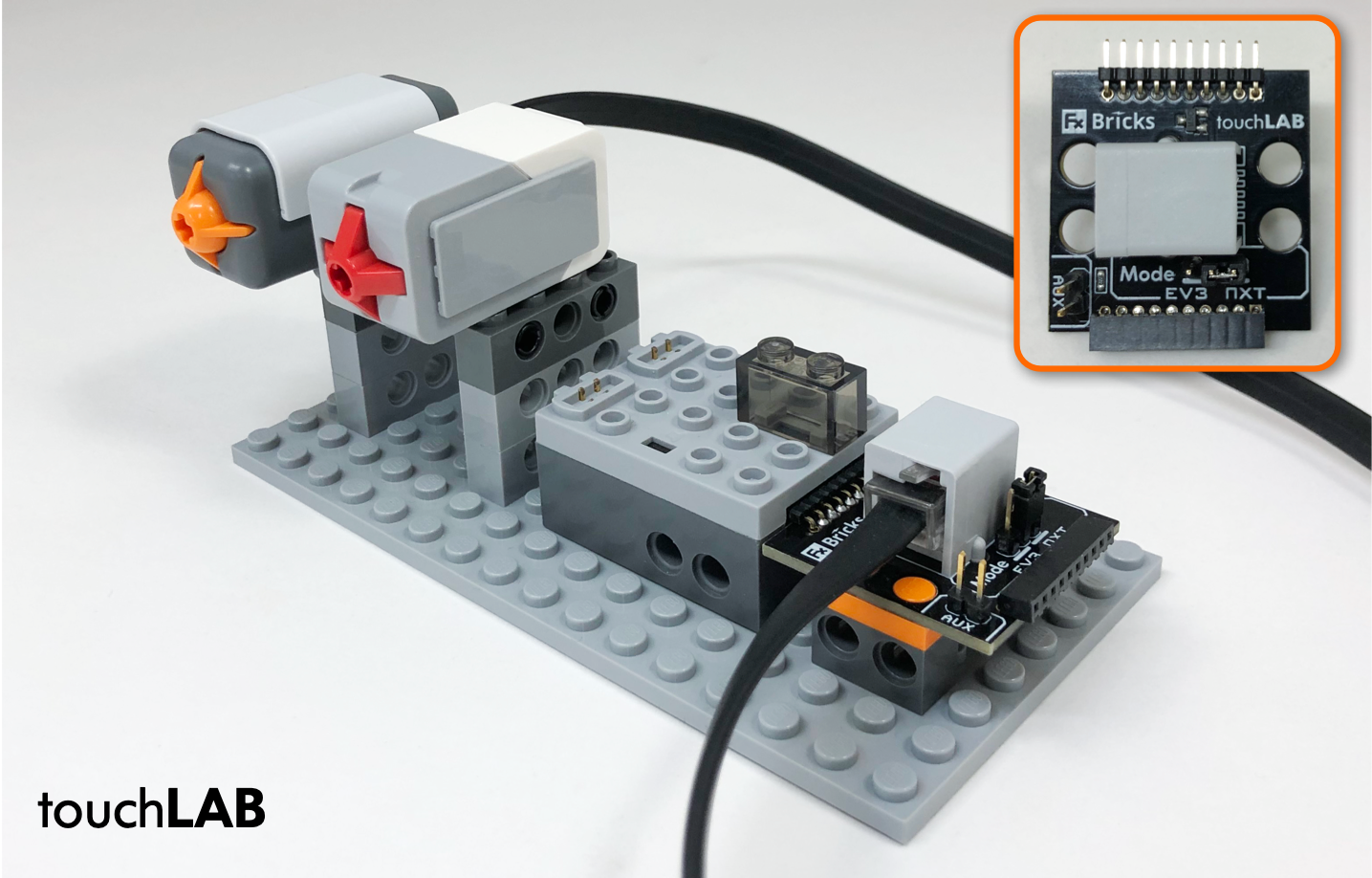 New LDraw Models
We have recently updated our LDraw models of the PFx Brick and accessories for use with your favorite LEGO CAD software. Integrating the PFx Brick into instruction books or digital models can be achieved with ease with our high quality detailed LDraw 3D models.
Download the new models from our GitHub repository.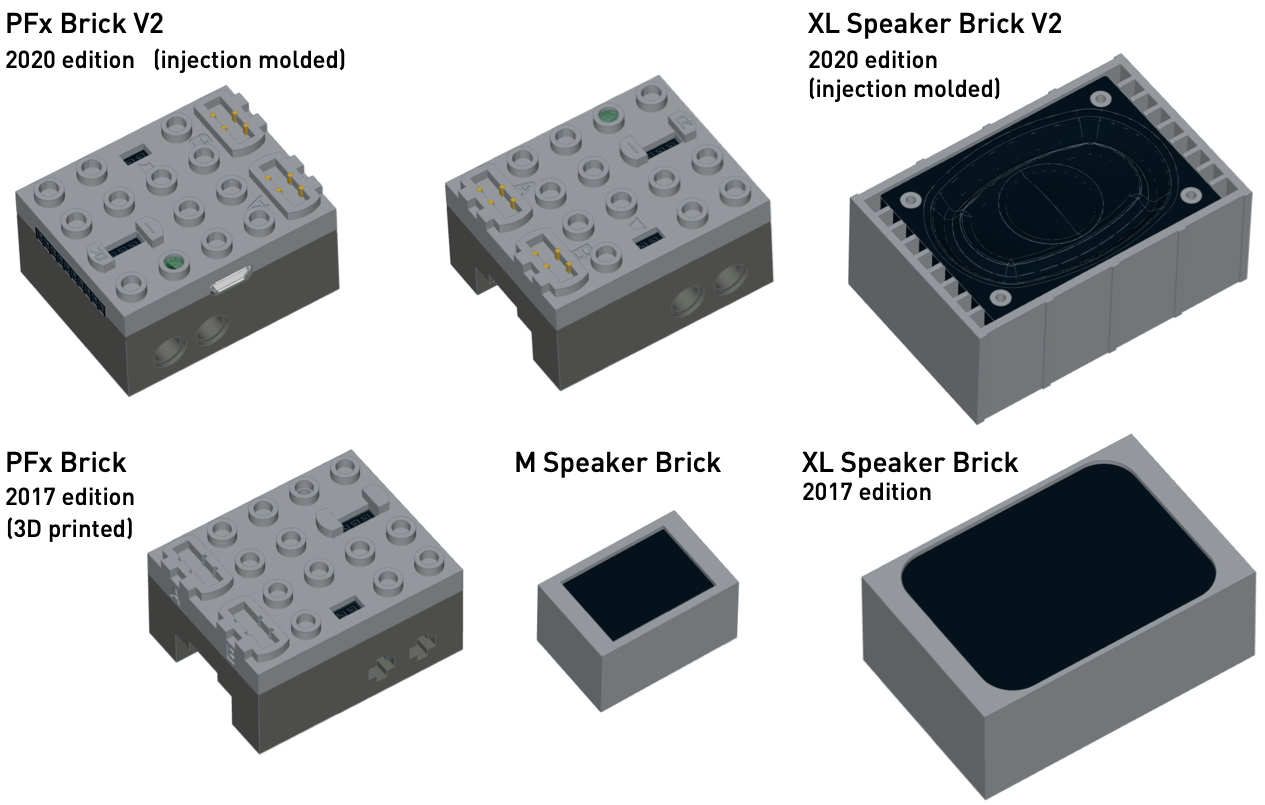 PFx Brick Scripting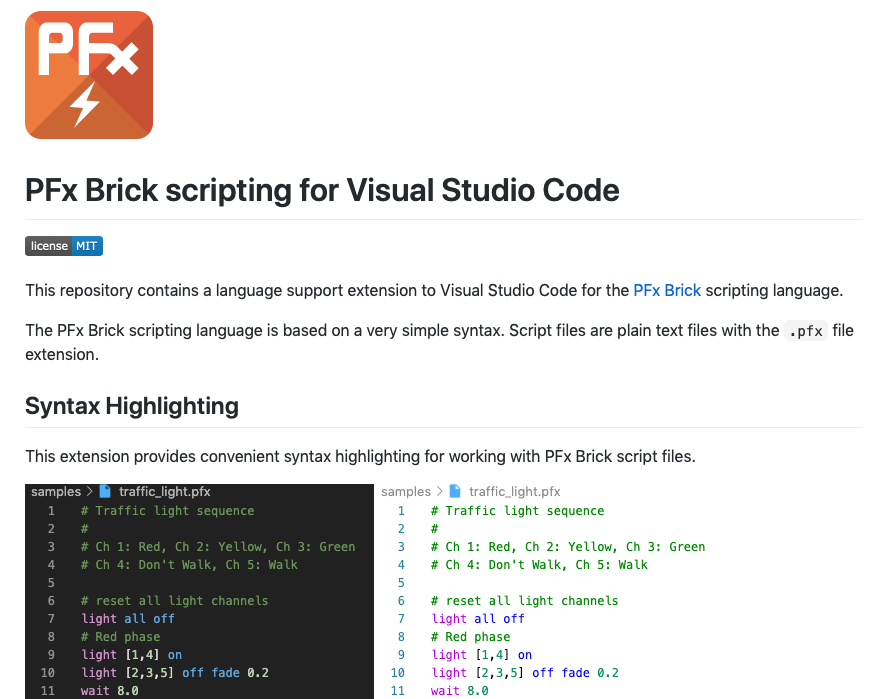 Did you know that the PFx Brick has the ability to run script files? Scripts allow the PFx Brick to perform customized sequences of actions and behaviours. The scripting language follows a very simple syntax and can be edited with your favourite text editor. In fact, we've made it even easier for you by making a Visual Studio Code language extension for the PFx Brick! Check it out from our GitHub repository!
June 11, 2020 Filed in:
News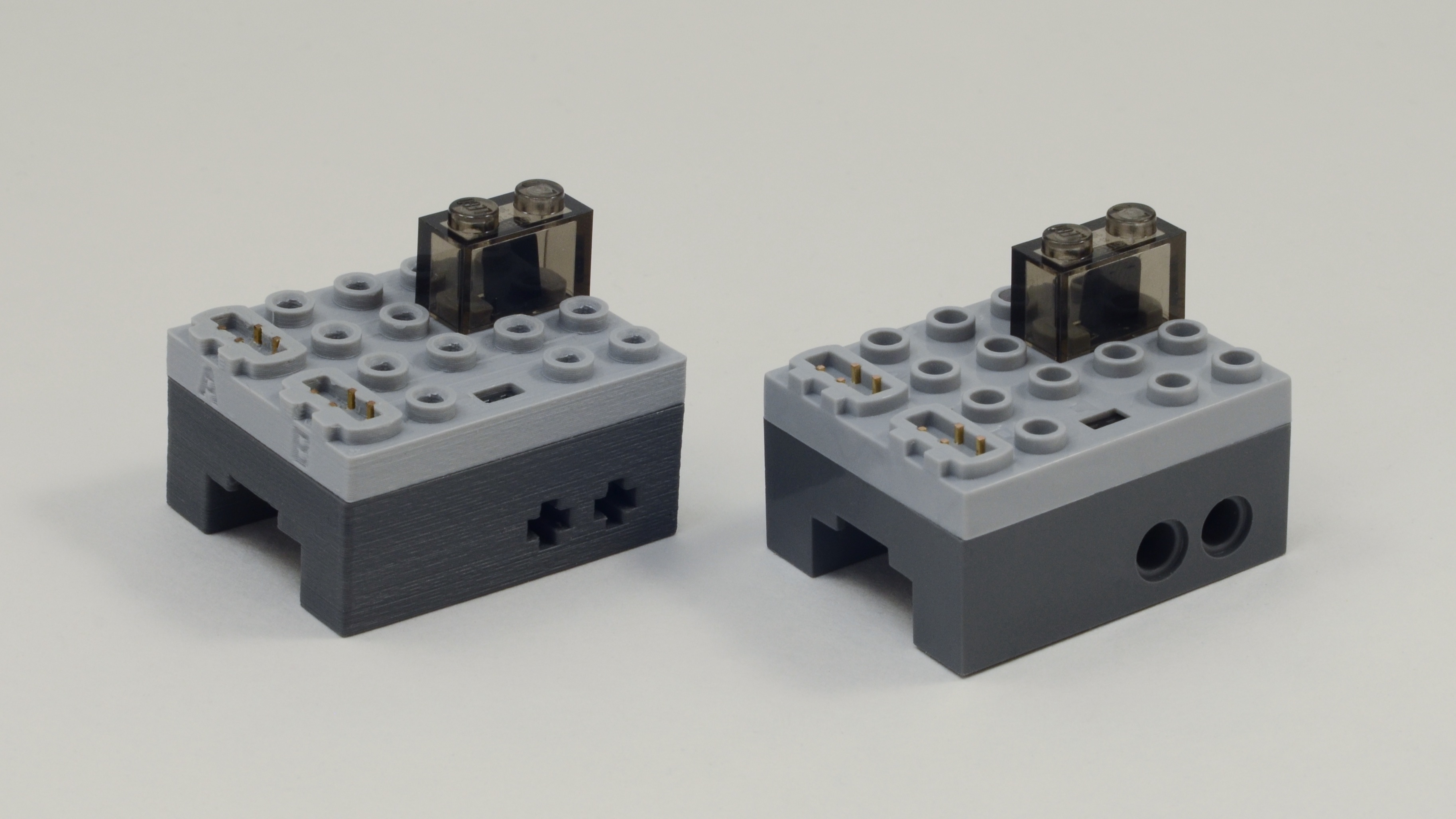 1st generation 3D printed PFx Brick (left) new 2nd generation PFx Brick (right) injected molded in ABS

The new injection molded ABS enclosures for the PFx Brick have finally arrived from our manufacturing partners in China! Late last week we received 80x (out of the final 1000x) enclosure top and bottom components. As a result, we have been able to perform final assembly and test on a small batch of PFx Bricks in order to adjust our production processes around the new PFx Brick. We are thrilled at just how amazing the PFx Brick looks and performs! And we are hopeful you will be equally impressed and look forward to start shipping in the next few days.

We do have a sizeable production backlog, but we will working hard to get through it as fast as we can. We will also keep the order tracker on our website as up to date as possible so that you can keep track of your order progress.
In other news, we are still aiming for a launch of the Fx Track system this summer. We will be starting with the S8 and S32 straight tracks and the R72 and R88 curved tracks. We have approved the final production versions of the product and are ready to start the manufacturing process. We still have a great deal more work to do, including retail packaging, updating our e-commerce and distribution processes, but we feel confident that we will on "track" for this summer. Following the S8, S32, R72 and R88 track elements, we plan on releasing the S16 straight track and R56 curved track later this year. In parallel, we are still working with our manufacturing partners to establish cost and schedule for the amazing P40 Left and Right Switch tracks. The P40 switch is designed to fit into the geometry of the L-Gauge track system and therefore requires a few additional companion elements for us to manufacture. These include the R64 curved track for making return curves for parallel sidings and the unusual S1.6 and S3.2 straight tracks (shown below) used for making perfectly aligned yard ladder configurations.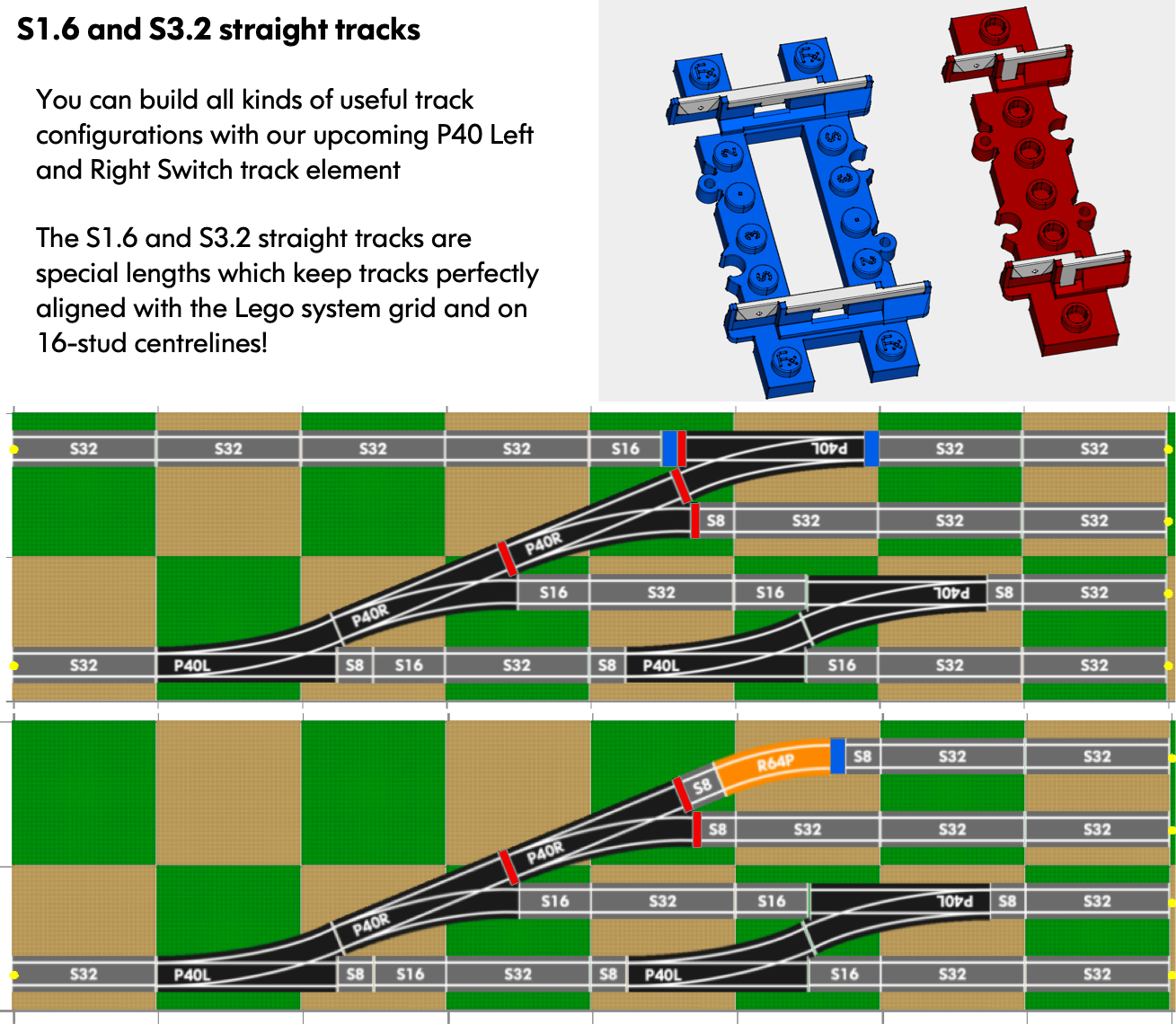 And if new tracks were not enough, we are very likely going to produce updated versions of our popular M and XL speaker bricks with injection molded ABS enclosures! Now that the PFx Brick has a cool new brick enclosure, we felt it was only logical to give the speaker bricks the same treatment! Shown below are some prototype designs we are considering for manufacturing...
As you can see, we are super busy at Fx Bricks and we can't wait to offer the Lego community amazing new products and building opportunities! Stay tuned to fxbricks.com for more news!