2021 has been a very exciting year for us and there's a lot more good news to come! Firstly, we are so thankful and encouraged by the response to our Fx Track
...
October 15, 2018 Filed in:
News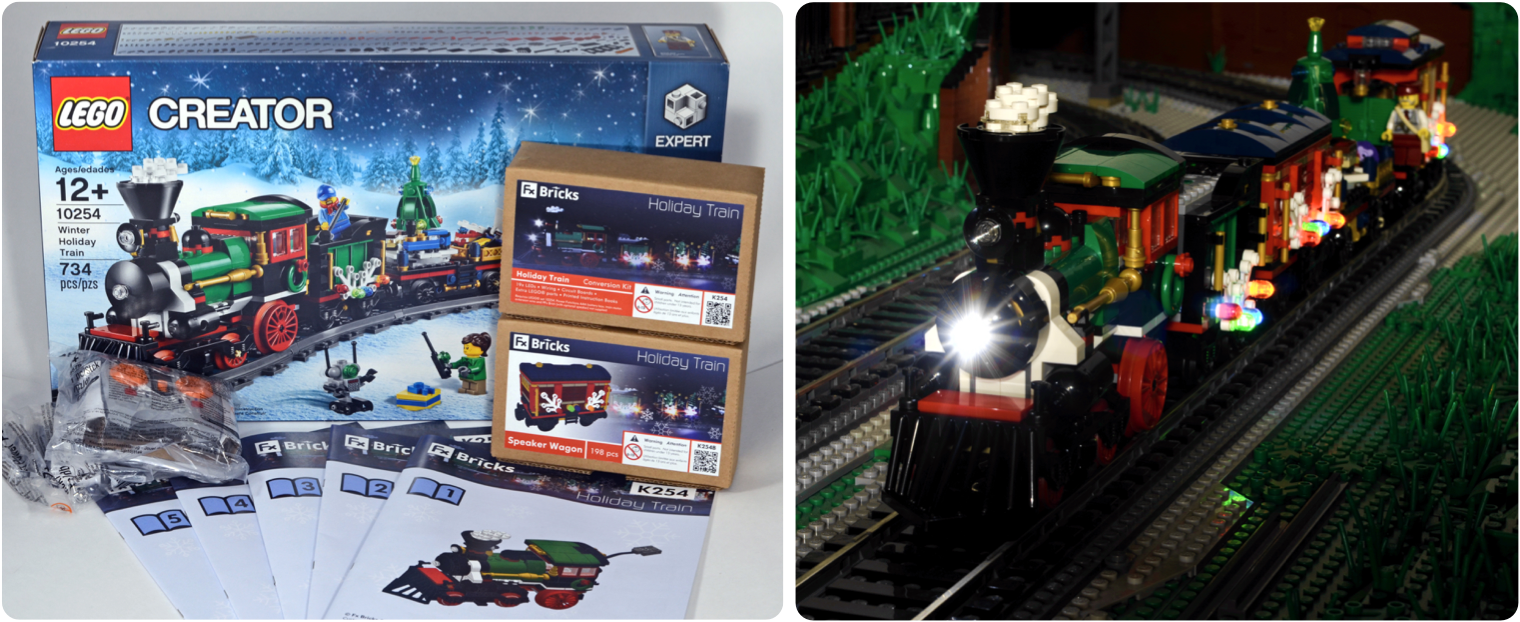 We're excited to announce that our Holiday Train conversion kit is now available! It brings the magic of light and sound to the LEGO® 10254 Holiday Train set. This conversion kit comes complete with all of the components you need to rebuild the Holiday Train with added lights and optional sound. You simply combine the contents of this conversion kit with the Holiday Train set and follow our instruction books. When built, you can download the Holiday Train profile from our website and install it into your PFx Brick using the PFx App. This profile pre-configures the PFx Brick lighting outputs and effects, adds steam train sound effects, and pre-configures the remote control actions. Using the PFx App you can modify the profile to change the lighting effects, add/change sound effects/songs, or reconfigure the remote control actions.
Feature Summary
Locomotive headlight
8x Tender blinking lights
8x Caboose blinking lights
2x Caboose porch lights
Custom light accessory board to connect PFx Brick
All electronics pre-wired and ready to use
Extra LEGO® parts required to modify and convert the Holiday Train set
Colour printed instruction books (+ digital download instructions)
PFx Brick profile with steam train sounds, music, sleigh bells, Santa's "Ho Ho Ho!"
To use this kit, you must have the following LEGO® brand items (available separately from shop.lego.com):
10254 Holiday Train Set
88000 Power Functions Battery Box
8886 Power Functions Extension Wire
8879 Power Functions Speed Remote
88002 Power Functions Train Motor
This kit is designed to work with any PFx Brick (IR, 4 MB, 8 MB, etc.) which is sold separately.
There are three versions of this kit:
1. Basic - Lighting conversion without sound
2. Standard - Lighting and sound conversion (adds Fx Bricks M-Speaker brick)
3. Deluxe - Lighting and sound conversion with separately purchased Speaker Wagon add-on kit

The Speaker Wagon is an exclusive custom designed wagon kit to expand your Holiday Train! The visual style of the wagon has been carefully designed to harmonize with the design style of the LEGO® Holiday Train. Of course, the real function of the Speaker Wagon is to maximize the sound performance of the sound effects from the PFx Brick by enclosing a powerful XL Speaker Brick. Even though the XL Speaker is hidden inside the wagon, the wagon roof and end walls have carefully designed grilles to allow the sound to project from the wagon. This charming new wagon will look (and sound!) perfectly with your Holiday Train!
Feature Summary
All LEGO® parts to build the wagon (198 pcs)
Colour printed instructions (+ digital download instructions)
XL Speaker Brick
8x blinking side lights
wiring and connections to adjacent Holiday Train wagons
Delivery
Due to the difficulty in sourcing LEGO® parts with guaranteed delivery times, we have only provisioned for approximately 25 complete kits with guaranteed 2018 shipping. These initial kits are offered as an "Early Bird" production batch with a limit of 1 per customer. Quantities after the Early Bird batch will be fulfilled as best as we can but we cannot guarantee shipping for Christmas 2018.
The "early bird" production batch will sell out quickly; so visit our web store and get your Holiday Train conversion kit as soon as you can!

February 19, 2018 Filed in:
News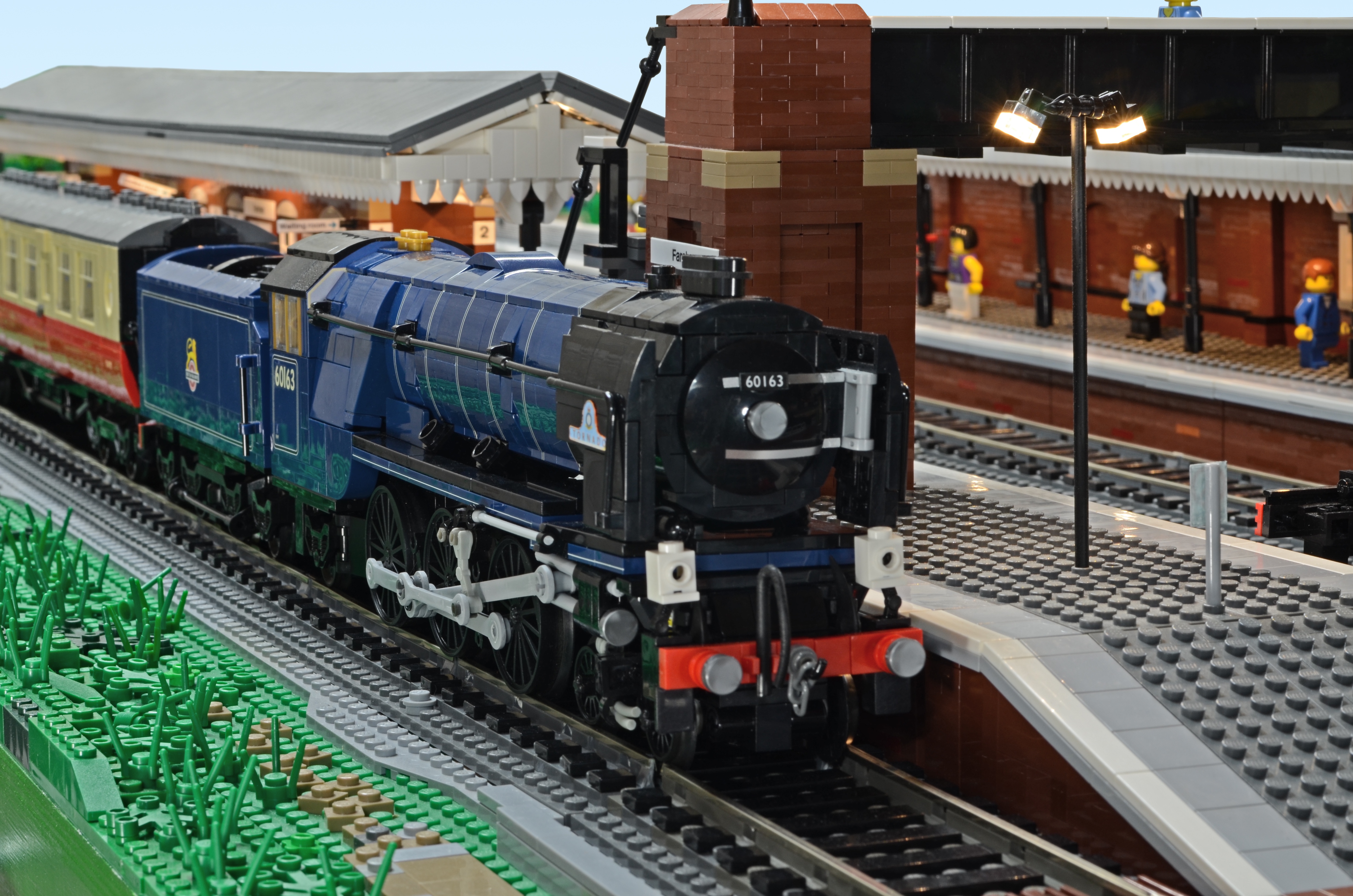 Good news for LEGO train fans! We've just updated our sound effects library with a bunch of new train sounds. These sounds have been carefully chosen and remastered for use on the PFx Brick and can be combined with our new downloadable profiles for extra customization. The sound files have been tagged into these major categories:
Bells - loop-able bell sounds representing both mechanical and electric types
Horns - an extensive combination of popular horn sounds from Nathan, Leslie, etc. mastered in both long and short versions
Misc - miscellaneous sounds including couplers, squeals, grade crossings, etc.
Whistles - a collection of steam whistles representing a range of locomotive types
The biggest addition to our downloadable resources are new pre-configured sound profiles for steam and diesel locomotives. These profiles combine carefully mastered sounds of actual engine/prime-mover noises which automatically playback based on motor speed. This gives the ultimate simulated sound experience of real locomotives! You can customize the profile with your preferred horn or whistle sounds as well as customize the remote control actions for sound playback. The PFx Brick even has "random" playback of sound effects further enhancing the realism. Combined with the customization of motor speed curves, acceleration, and deceleration--a sound equipped LEGO train takes operation to another level!
We plan to add more sounds effects and profiles in the future. In the meantime, checkout the new profiles and have fun customizing them for your models!