The winner of the PFx Brick + XL Speaker package is Alexander McCook's Lartigue Monorail. Alexander (aka narrow_gauge) is an accomplished and gifted Lego train
...
February 12, 2018 Filed in:
News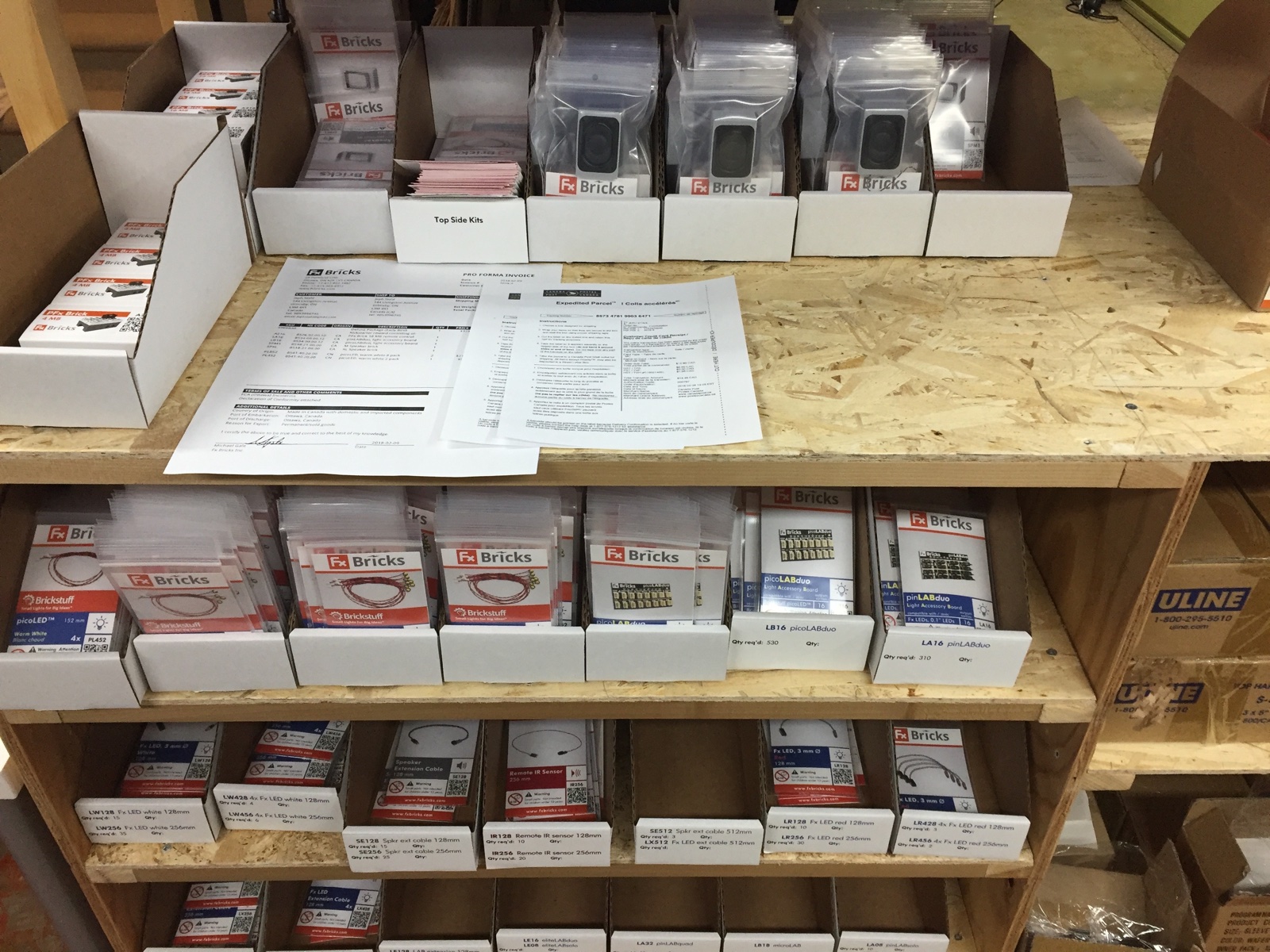 In Jan 2018, we started to ship PFx Brick rewards to our Kickstarter backers. This process is going to take many weeks since we are doing production and fulfillment in parallel. We are shipping our Kickstarter rewards in backer order--that is, the order in which pledges where made during the campaign. We may deviate from this process based on availability of items or other factors--but more or less it will be in backer order.
Pre-Order Deliveries
We would like to apologize to those folks who placed Pre-Orders for the PFx Brick expecting shipment starting now. We received many more Pre-Orders than we expected and have had to procure more parts and extend production to accommodate. Also, we only think it is fair to our Kickstarter backers to fulfill their reward shipment before the pre-order shipments. This means pre-order shipments are going to take many weeks to start shipping. We are sorry and do understand your frustration. In fact, if you are a pre-order customer and are not satisfied with this shipping schedule, we will offer you a refund of your pre-order purchase. Rest assured we are doing all we can to get everyone's order processed and shipped.
The good news is that shipments are occurring everyday. The pipeline of production, testing, packaging and shipping is continuously flowing. We are finding ways of making the process more efficient and will continue to make more improvements. At the end of the day, we want everyone to get their PFx Brick as soon as possible!
November 30, 2017 Filed in:
Info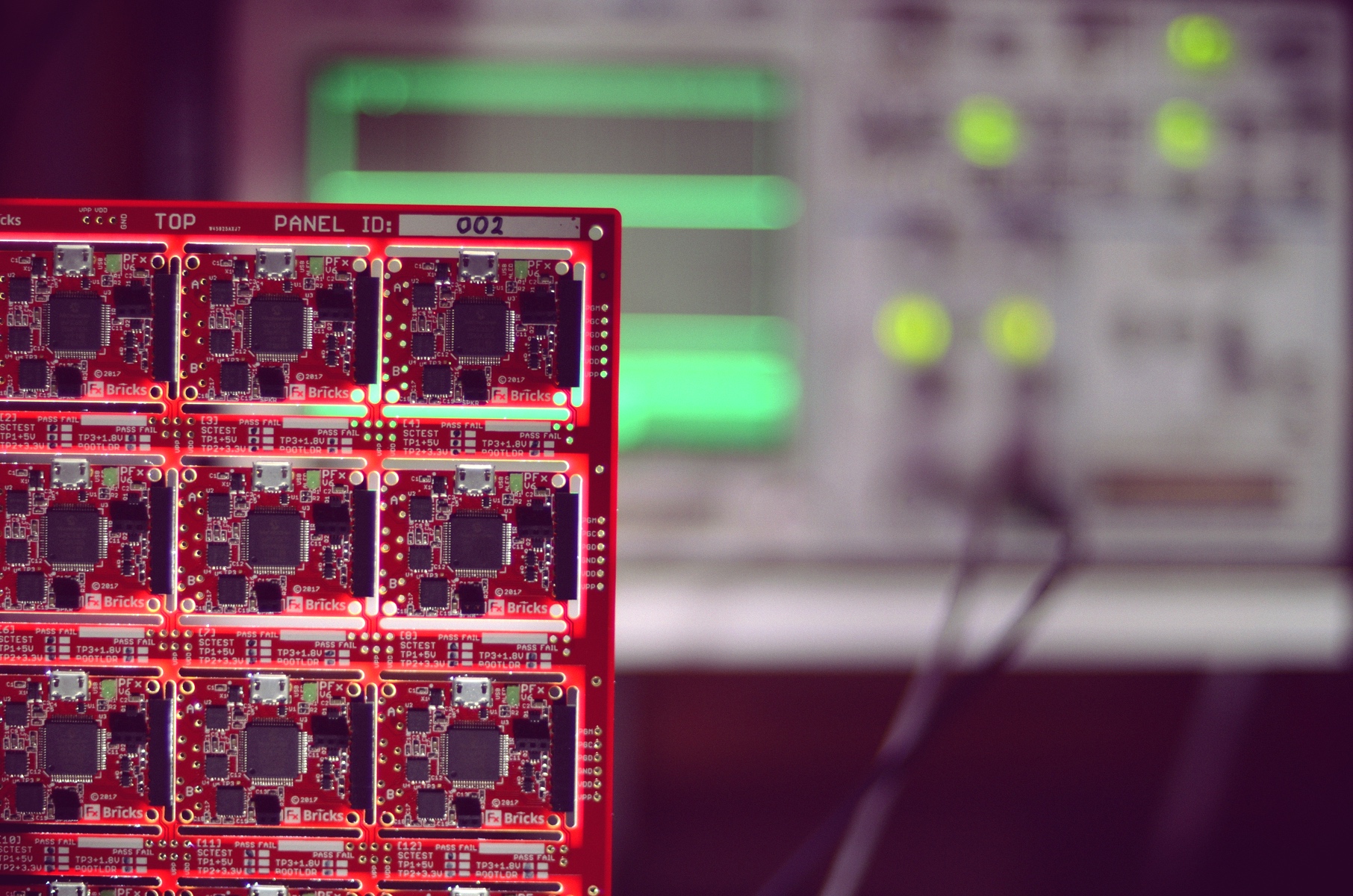 Achieving our certifications for the PFx Brick gave us the final "green light" to ramp up production. As a result we have been very very busy!
So far, we are tracking on schedule to start shipment in Jan 2018. However, this does not mean everyone receives their items in Jan. The fulfillment process will be pipelined in parallel with production and will likely take at least 3 months. We will start fulfillment in the order of backer pledges--that is, we will start with the first backer to make a pledge and proceed down the list to the last backer.
Sometimes its difficult to appreciate the process behind making electronic products like the PFx Brick. Some of you may be surprised to learn that we didn't just have the bricks made in some anonymous factory in China. Instead, we operate like Swiss-watchmakers: all PFx Bricks are hand crafted and assembled in-house. This gives us the following advantages:
1. We have direct control on quality
2. We have direct control on production schedule--we are not at the mercy of external suppliers.
To achieve efficient in-house production we have designed tools, jigs, workflows, and processes to build the PFx Brick to the highest standards of quality. So far, we are very proud to announce that we have achieved 100% yield on our assembled/tested PCBs! thought you'd appreciate a behind the scenes look at the Fx Bricks lab, and how we get things done...
First, here's a look at Fx Bricks HQ! Our lab space--optimally arranged for production...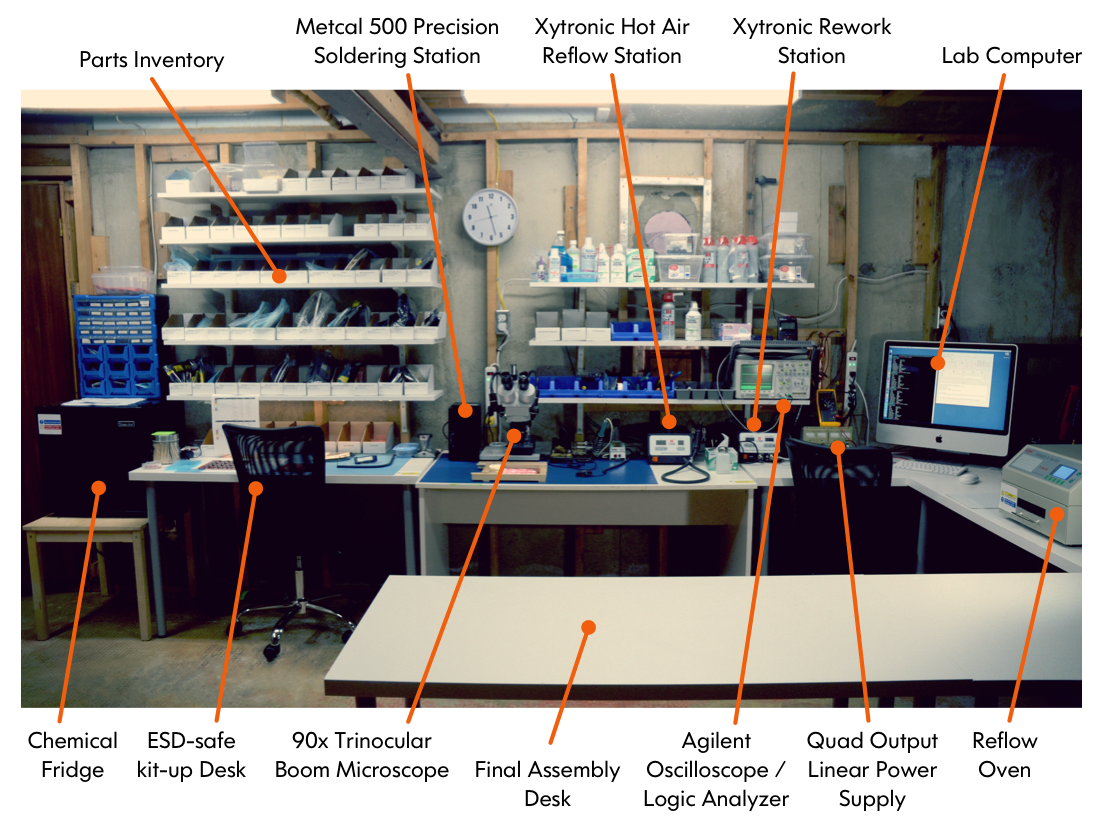 Precision manufacturing requires precision tools!...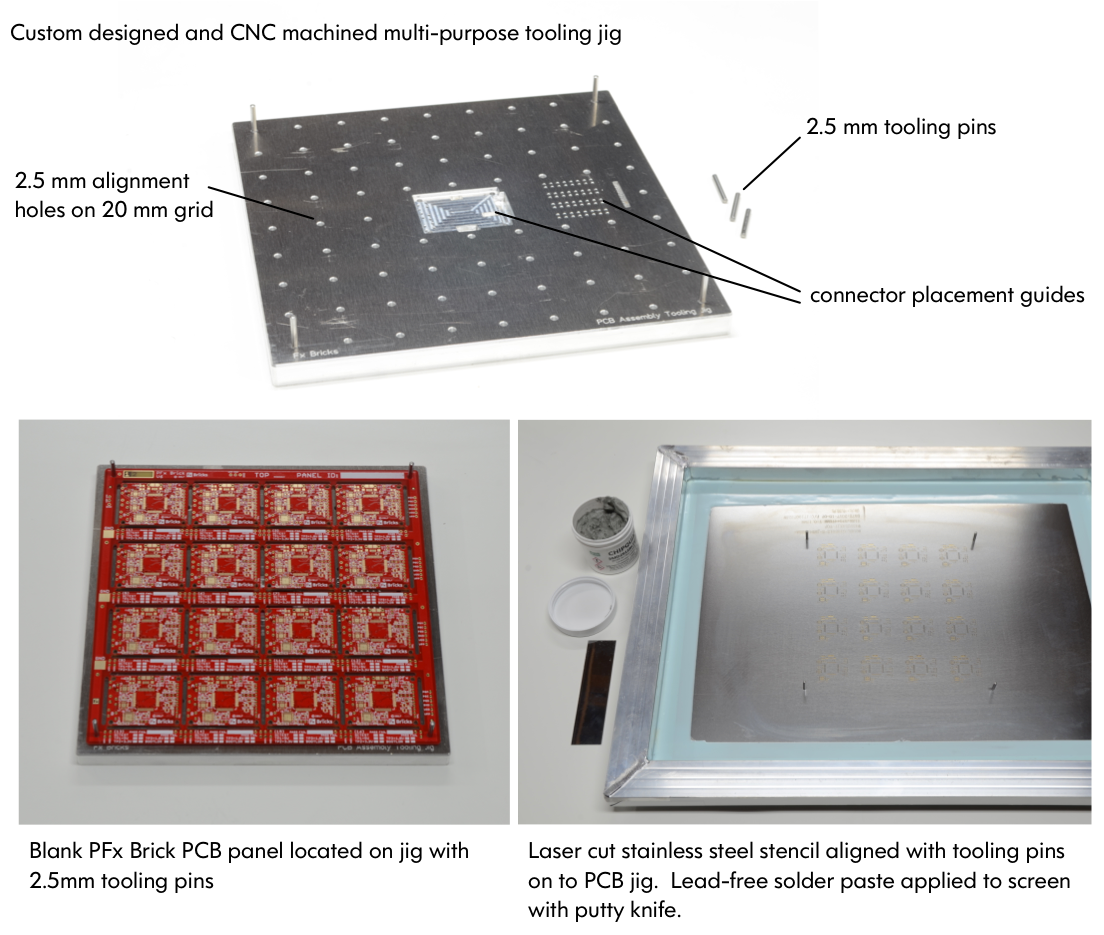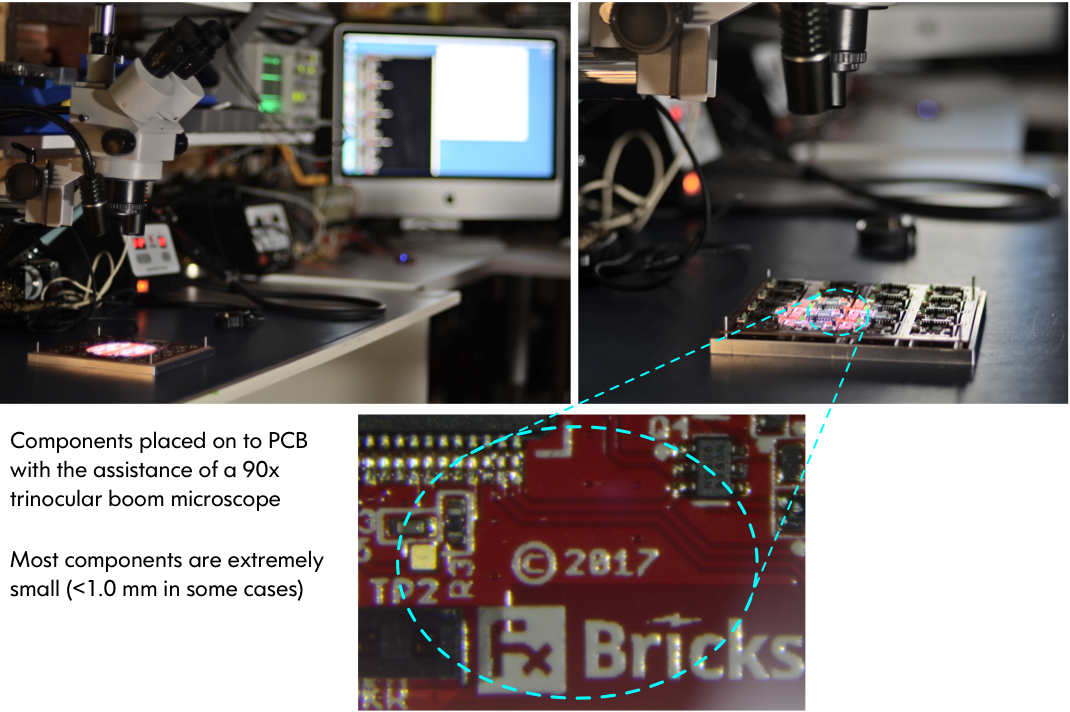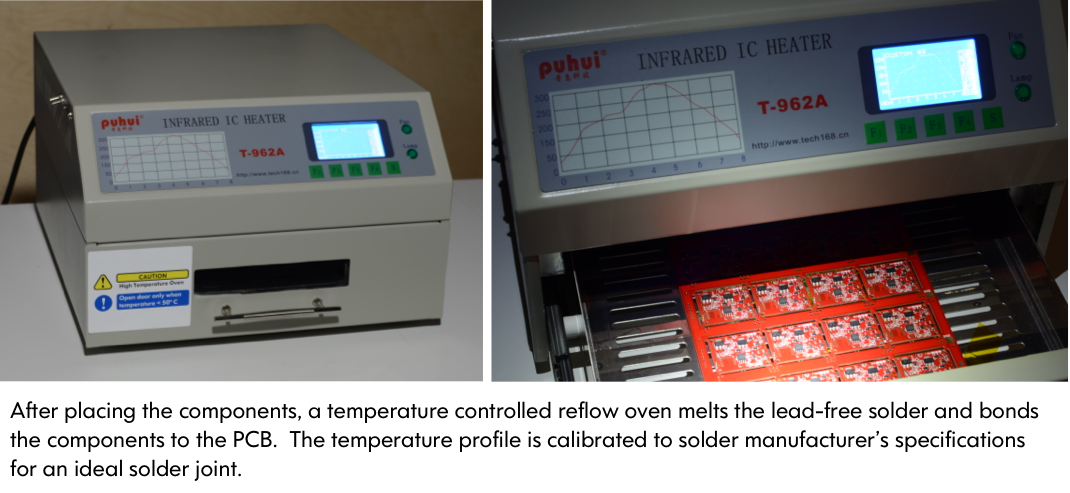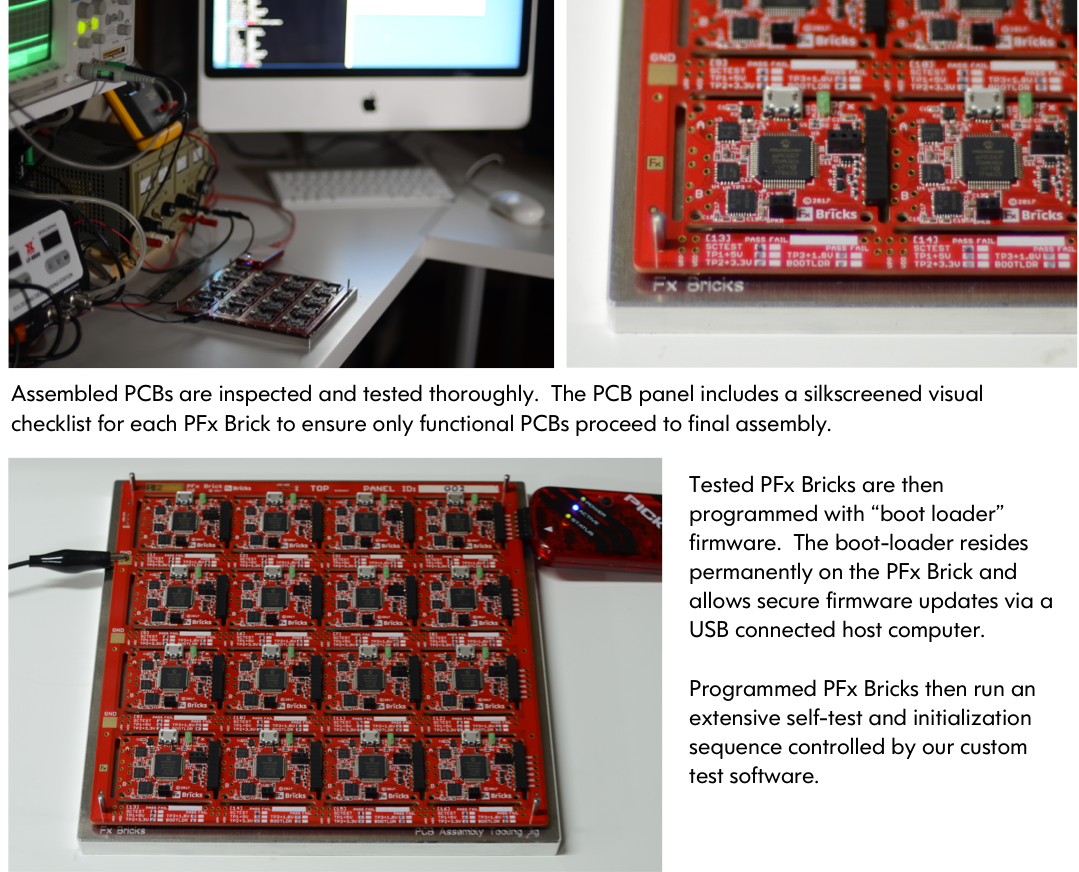 A sea of assembled and tested PFx Bricks...ready for final assembly into the housing...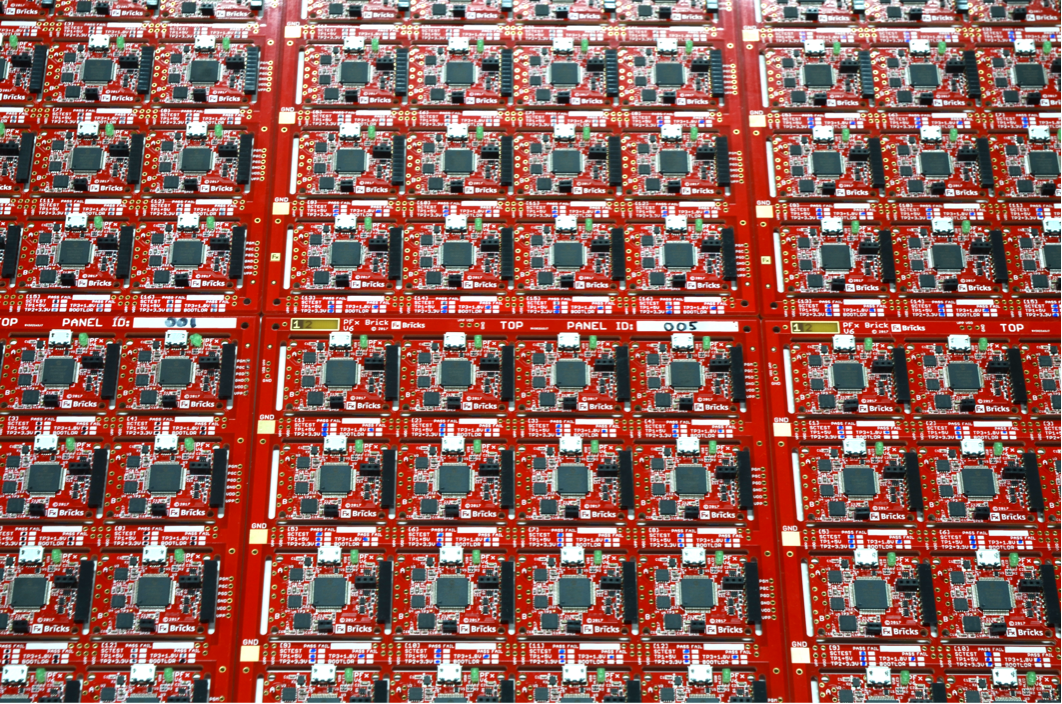 August 12, 2017 Filed in:
News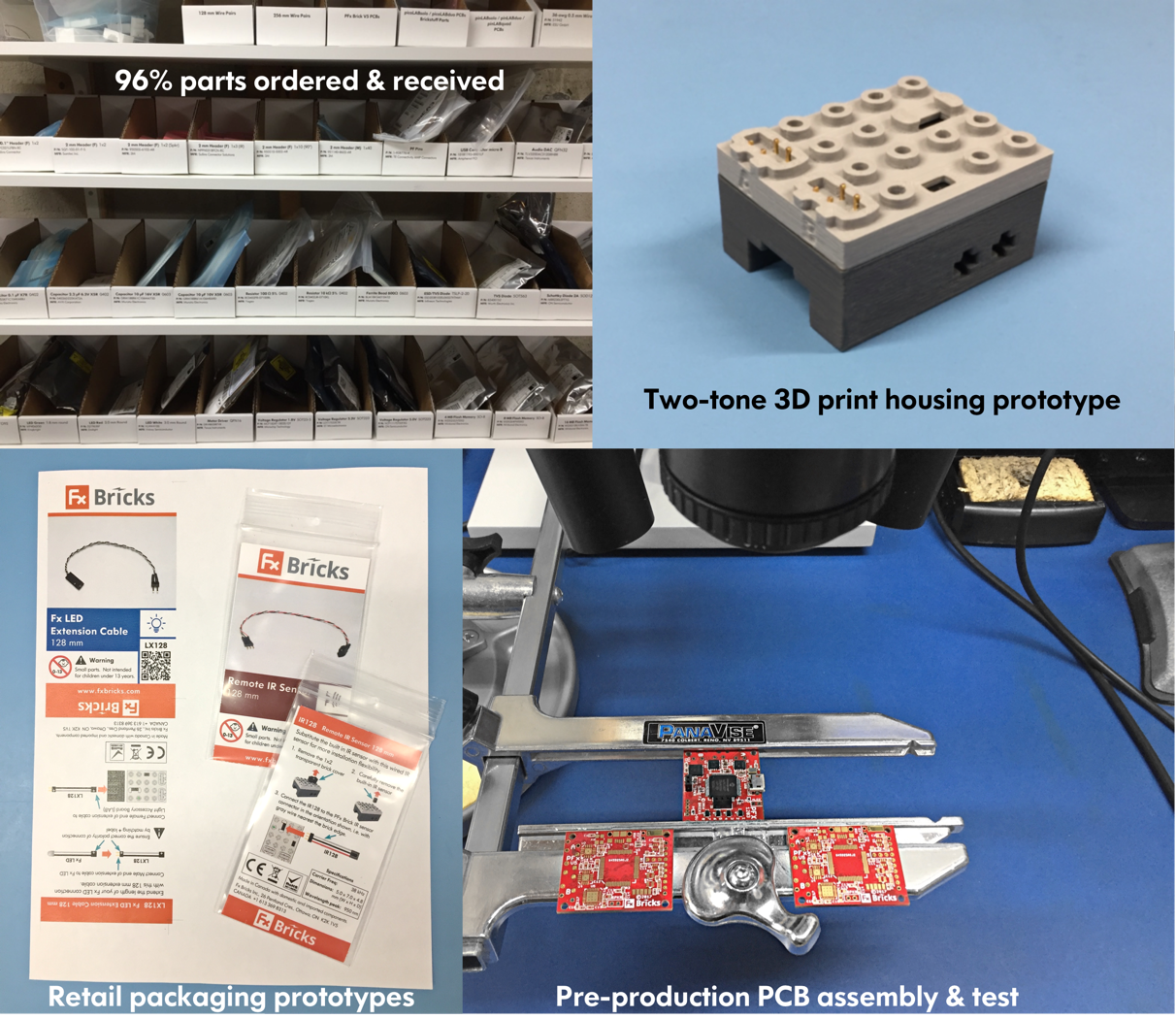 Its been a very busy summer for us! Getting the PFx Brick project in motion has required a great deal of time and energy and a lot more will be required to keep up the momentum! We want to give you an update to let you know what we have achieved and the status of the project.
1. Reward Surveys: All surveys were sent out late June and we have received 389 out of 410 surveys (95%). Please take a moment to complete your survey if you have not done so already, it will help us with more precise production quantities.

2. Add-ons & Store: Since opening the store, we have been really amazed by the activity. Kickstarter backers have added another 461 items to our production queue by adding everything from additional bricks, upgrades, and add-on accessories. We have also received orders for an additional 102 items from folks outside the Kickstarter campaign. Thanks so much everyone!

3. Purchasing

i. 98% of all the electronic components have been ordered, with around 96% received already. Unfortunately, we have long lead delivery notices for the Bluetooth modules and some of the Flash memory devices. We've been told to expect them Sep-Oct depending on factory supplies. For the flash memory, we are sourcing alternative compatible devices to speed up delivery.

ii. All of the picoLEDs have been ordered from Brickstuff including the add-on quantities offered during July.
iii. All Light Accessory Boards (LABs) modules have been ordered for manufacture by our Chinese supplier.
4. PFx Brick Volume Production: We have completed our design for the volume production panel for the PFx Brick printed circuit board (PCB). This panel not only allows for rapid manufacturing, but it also includes customized smart features that let us test and program PFx Bricks directly in the production panel even before they are separated for final assembly! This will dramatically accelerate integration and testing and let us catch assembly defects earlier in the production process.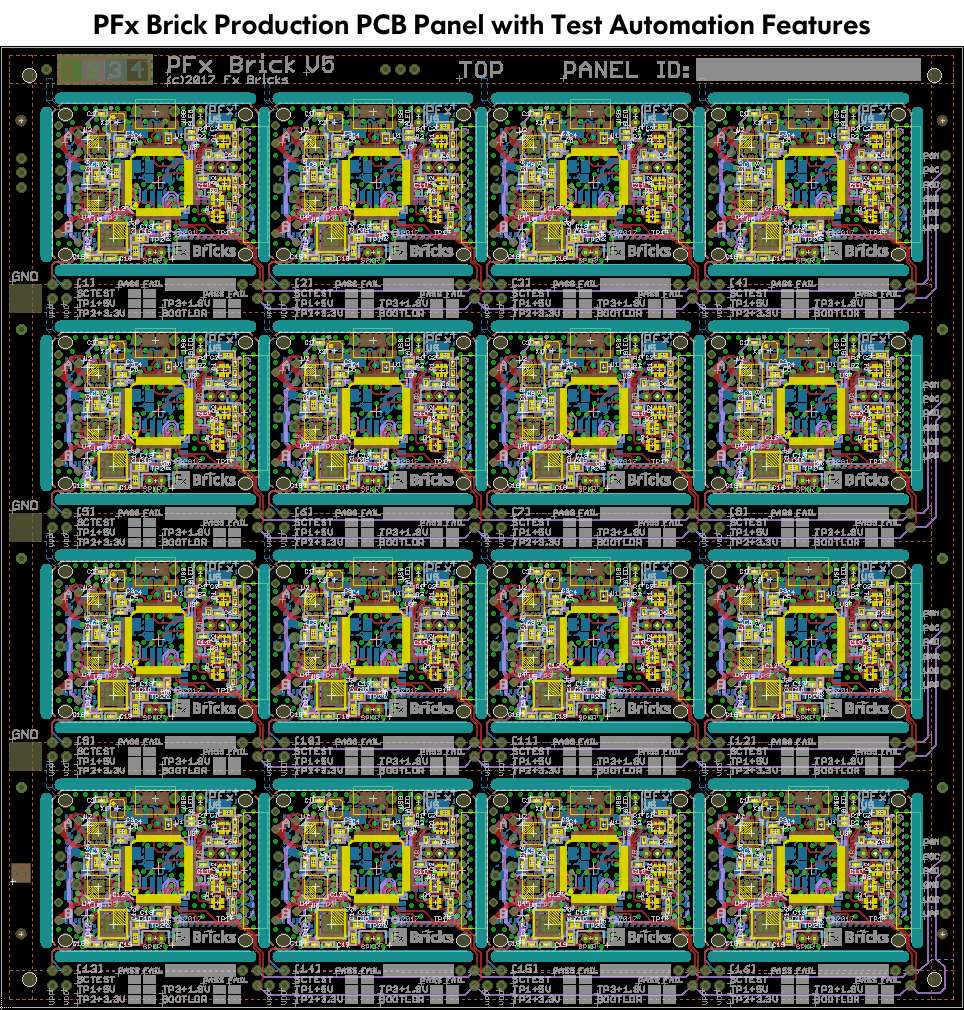 5. 3D Printing: We have just about converged on a final design for the PFx Brick housing from 4DBrix. We think the two-tone (light & dark bluish gray) brick enclosure looks really awesome! We're really lucky to work with a LEGO focused partner like 4DBrix since they implicitly know both the requirements of functional LEGO elements and the capabilities of the ABS 3D printing process.
6. Retail Packaging: We have finalized the design for the various retail packaging required for our products. We think the design is crisp and clean with all of the required regulatory and safety markings. The packaging design and colour scheme is consistent with the online store for a harmonious product portfolio image.

7. More accessories: We have added some additional accessories to the store including:

4x packs for Fx LEDs and Fx LED extension cables
512 mm lengths for LED and Speaker extension cables
We're really excited to get the PFx Brick into production and we'll continue to work hard to deliver them to you as soon as we can!

Take your creations to the next level