The winner of the PFx Brick + XL Speaker package is Alexander McCook's Lartigue Monorail. Alexander (aka narrow_gauge) is an accomplished and gifted Lego train
...
October 15, 2018 Filed in:
News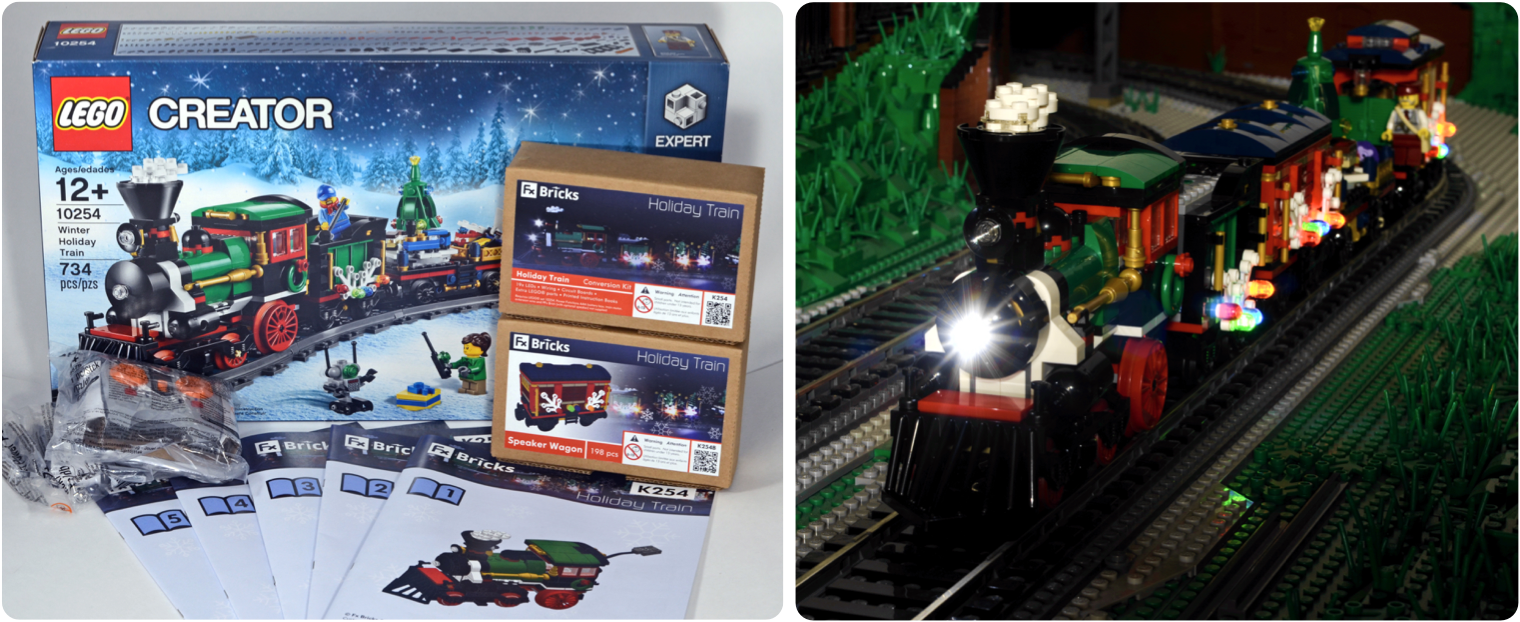 We're excited to announce that our Holiday Train conversion kit is now available! It brings the magic of light and sound to the LEGO® 10254 Holiday Train set. This conversion kit comes complete with all of the components you need to rebuild the Holiday Train with added lights and optional sound. You simply combine the contents of this conversion kit with the Holiday Train set and follow our instruction books. When built, you can download the Holiday Train profile from our website and install it into your PFx Brick using the PFx App. This profile pre-configures the PFx Brick lighting outputs and effects, adds steam train sound effects, and pre-configures the remote control actions. Using the PFx App you can modify the profile to change the lighting effects, add/change sound effects/songs, or reconfigure the remote control actions.
Feature Summary
Locomotive headlight
8x Tender blinking lights
8x Caboose blinking lights
2x Caboose porch lights
Custom light accessory board to connect PFx Brick
All electronics pre-wired and ready to use
Extra LEGO® parts required to modify and convert the Holiday Train set
Colour printed instruction books (+ digital download instructions)
PFx Brick profile with steam train sounds, music, sleigh bells, Santa's "Ho Ho Ho!"
To use this kit, you must have the following LEGO® brand items (available separately from shop.lego.com):
10254 Holiday Train Set
88000 Power Functions Battery Box
8886 Power Functions Extension Wire
8879 Power Functions Speed Remote
88002 Power Functions Train Motor
This kit is designed to work with any PFx Brick (IR, 4 MB, 8 MB, etc.) which is sold separately.
There are three versions of this kit:
1. Basic - Lighting conversion without sound
2. Standard - Lighting and sound conversion (adds Fx Bricks M-Speaker brick)
3. Deluxe - Lighting and sound conversion with separately purchased Speaker Wagon add-on kit

The Speaker Wagon is an exclusive custom designed wagon kit to expand your Holiday Train! The visual style of the wagon has been carefully designed to harmonize with the design style of the LEGO® Holiday Train. Of course, the real function of the Speaker Wagon is to maximize the sound performance of the sound effects from the PFx Brick by enclosing a powerful XL Speaker Brick. Even though the XL Speaker is hidden inside the wagon, the wagon roof and end walls have carefully designed grilles to allow the sound to project from the wagon. This charming new wagon will look (and sound!) perfectly with your Holiday Train!
Feature Summary
All LEGO® parts to build the wagon (198 pcs)
Colour printed instructions (+ digital download instructions)
XL Speaker Brick
8x blinking side lights
wiring and connections to adjacent Holiday Train wagons
Delivery
Due to the difficulty in sourcing LEGO® parts with guaranteed delivery times, we have only provisioned for approximately 25 complete kits with guaranteed 2018 shipping. These initial kits are offered as an "Early Bird" production batch with a limit of 1 per customer. Quantities after the Early Bird batch will be fulfilled as best as we can but we cannot guarantee shipping for Christmas 2018.
The "early bird" production batch will sell out quickly; so visit our web store and get your Holiday Train conversion kit as soon as you can!

April 3, 2017 Filed in:
Info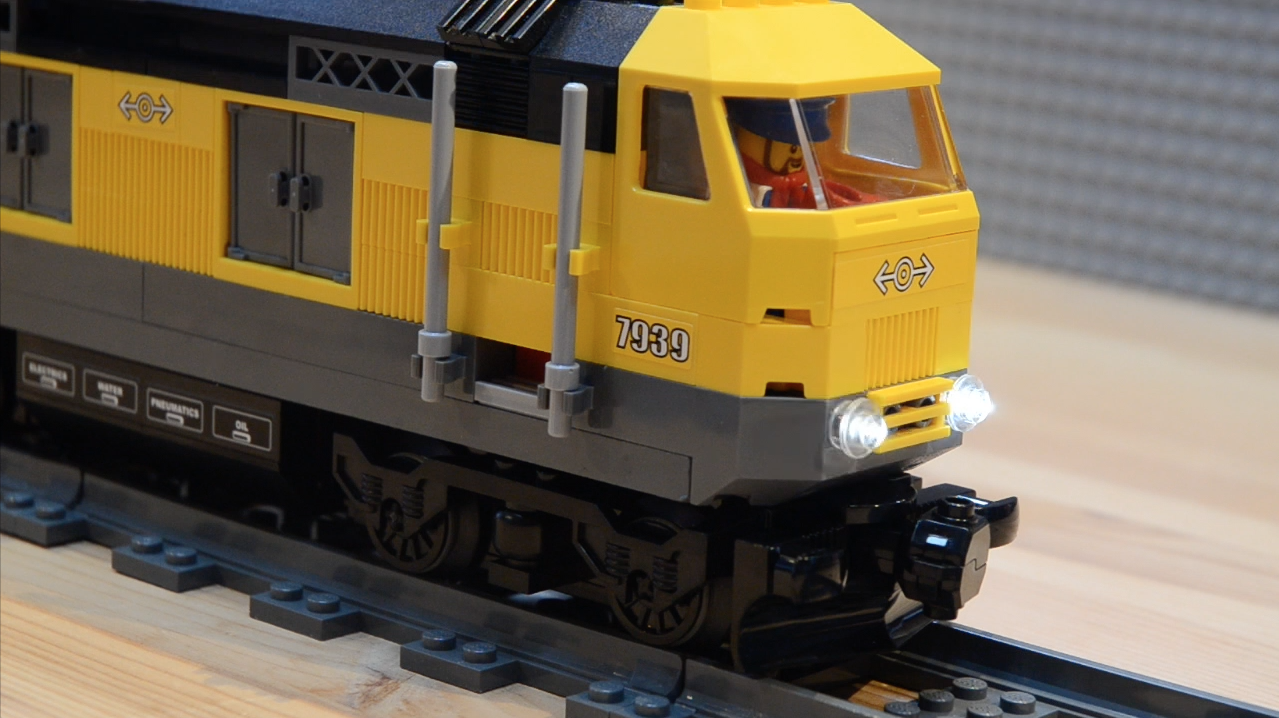 The PFx Brick is capable of transforming LEGO® trains with the addition of smart lighting effects, advanced motor control, and most of all programmable sound effects. Scale model trains have long enjoyed these benefits with the introduction of the NMRA (National Model Railroad Association) DCC (Digital Command Control) standard. Retrofitting DCC sound decoders into LEGO® trains is a difficult and challenging exercise requiring specialized tools and modification to LEGO® components. However, with the use of the PFx Brick, these missing features can now be made available to LEGO® trains and installation is no more difficult than fitting other Power Functions™ components. Some of the features that the PFx Brick offers LEGO® trains include:
Syncronized control of two motors each with a dedicated motor driver channel.
Adjustable speed curves to suit locomotive type.
Adjustable limits on both minimum and maximum speed.
Simulation of momemtum with programmable acceleration and deceleration rates.
Smart directional headlights.
Special light effects such as flashing ditch lights, MARS/Gyralite beacons, flickering fire boxes, dimming, and much more.
On command sound effects for bells, whistles, horns, prime movers, chuffing, brake squeel, couplers, compressors, machinery, crossing gates, and much more.
The video shown below is the first of a two part series which discusses the installation aspects of fitting a PFx Brick to a typical LEGO® train. In this video, we modify the locomotive that is part of the City freight train set #7939. However, the techniques and methods shown are equally applicable to virtually any LEGO® train. The challenges a builder will face are the usual factors such as space and clearance for items such as wiring, motors, battery boxes, etc.

The diagram below shows how the PFx Brick has been installed into the locomotive including its accessories. This installation includes:
Bi-directional head and tail lights consisting of a pair of 3 mm LEDs at each end.
Two Power Functions™ train motor bogies each connected to a dedicated motor channel.
M Speaker brick for sound effects.
Rechargeable battery box with top-mounted access to power switch and recharge port.
Side access doors to allow easy connection of a USB cable to the PFx Brick for programming and configuration.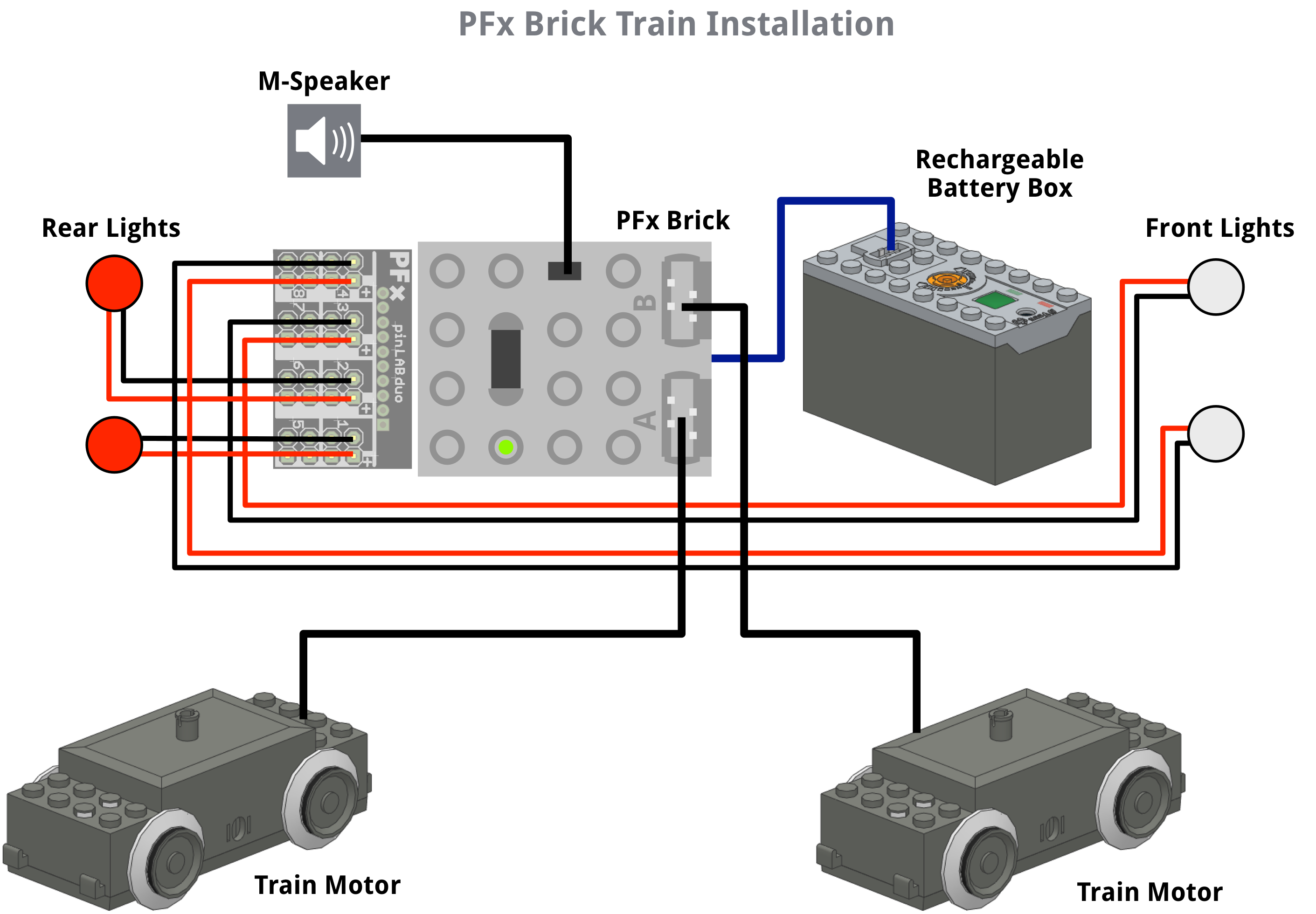 March 14, 2017 Filed in:
Info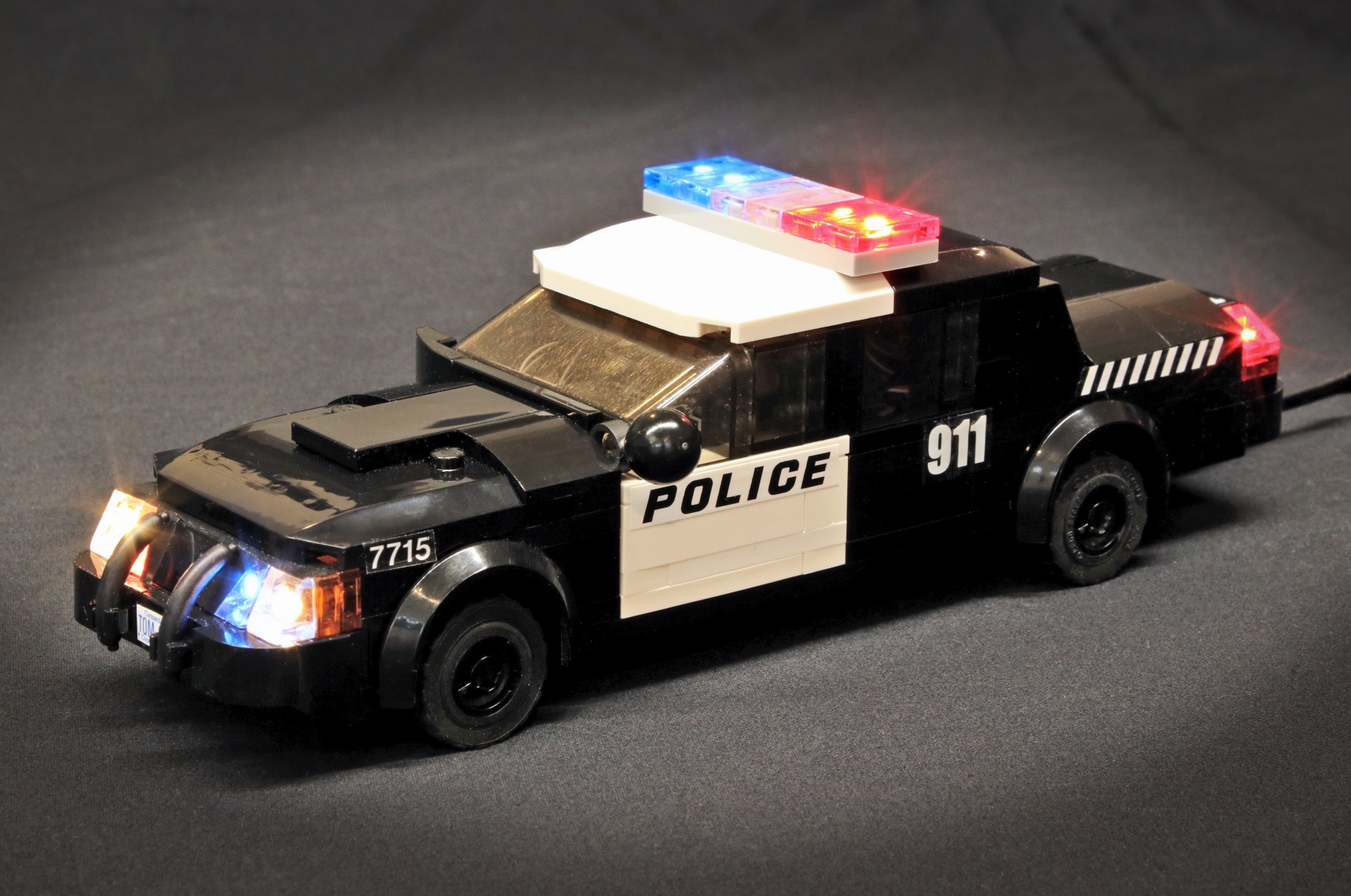 The PFx Brick has a wide portfolio of emergency vehicle flasher light effects. There are nearly 40 different different sequences each with different flash rates and styles. This enables builders to configure light outputs to match a wide variety of emergency vehicles used around the world and from different eras. A key feature of emergency vehicle flashers is the roof mounted lighting; implemented either as discrete lights or more commonly mounted into a light bar structure on the roof. In addition to the roof/lightbar flashers are auxilary flashing lights. These auxilary lights vary widely in terms of quantity and location among all emergency vehicles. Examples include side mounted flashers, radiator grille flashers, headlamp cluster flashers, etc. Auxilary flashers are often synchronized with one or more of the lightbar flashers and may or may not have the same flashing pattern. The PFx Brick provides a variety of functional flashing light outputs for all emergency flasher types in order to match a wide variety of prototypical emergency vehicles. The builder does not have to use every light output and may chose any combination which best suits their model.
The best way to see how these flashers work is to see them in action! This video shows the police interceptor in action:
The PFx Brick typically uses 7 of the 8 dedicated light channels for emergency vehicle flashers. The definition of each light channel is common for all of the emergency flasher styles and is shown in the diagram below. Also shown are a few examples of flasher lights with the light channels labeled.




The lightbar or roof mounted lights consist of a group of 4 lights which flash in variety of different styles. Often, these lights will be co-packaged into a roof mounted light bar. Two lights are intended for the left side of the vehicle and another pair is intended for the right side. Each left/right pair can have an inner and outer light. This allows light flashing sequences to alternate from left to right or from inside to outside depending on the style. For more simple applications, one of each of the left and right pairs can be used, e.g. just the outer left/right pair.
Two very common types of lightbar flashers are the so-called "Twinsonic" and "Whelen" style light- bars. These are named after the trade-marked products of Federal Signal and Whelen Engineering respectively; manufacturers of emergency vehicle lighting products. These style names are intended to be representative and not exact copies of any particular lighting product. The "Twinsonic" style light bar physically consisted of rotating mirrors around a light source and were common in older or heritage emergency vehicles. The rotating light effect is simulated with periodically variable brightness and has a "softer" flashing effect. The "Whelen" style lightbar is designed to simulate the flashing effects of modern and contemporary LED strobe-type emergency flashers. These light bars have many different strobe-like patterns and sequences. The PFx Brick includes most of the typical sequences available from this style of emergency flasher.
Many emergency vehicles incorporate additional flashing lights to those mounted on the roof. These can consist of flashers which duplicate the flashing sequence from the light bar or flash periodically synchronized with the alternating effect of the lightbar. The PFx Brick provides auxilary flasher outputs in order to connect lights which best represent the flashing light configuration of a particular vehicle.
The left/right auxilary 1x flashers flash periodically at the specificied rate alternating from left to right. The single auxilary 2x flash output flashes periodically at twice the specified flash rate. The 1x and 2x auxilary flashers are simple periodic flashers and do not exhibit the complicated flash sequences of the light bar. They are however synchronized with the light bar flash rate.
In order to showcase the awesome emergency vehicle lighting effects, I decided to build the quintessential North American police car: the Ford Crown Victoria police interceptor. I built the model using reference photographs and wanted to keep the scale of the vehicle within a typical 6-studs wide. The car was wired with operating head/taillights, reverse lights, headlight flashers and of course the roof light bar. Amazingly, the PFx Brick, speaker, and light wiring all fit within the car. A Power Functions extension wire discreetly feeds out of the bottom of the car to connect to an external battery box. A wiring diagram of the police car is shown below.
The PFx Brick was configured to activate the various lighting and sound effects using a dual joystick remote control. The remote actions were configured as follows: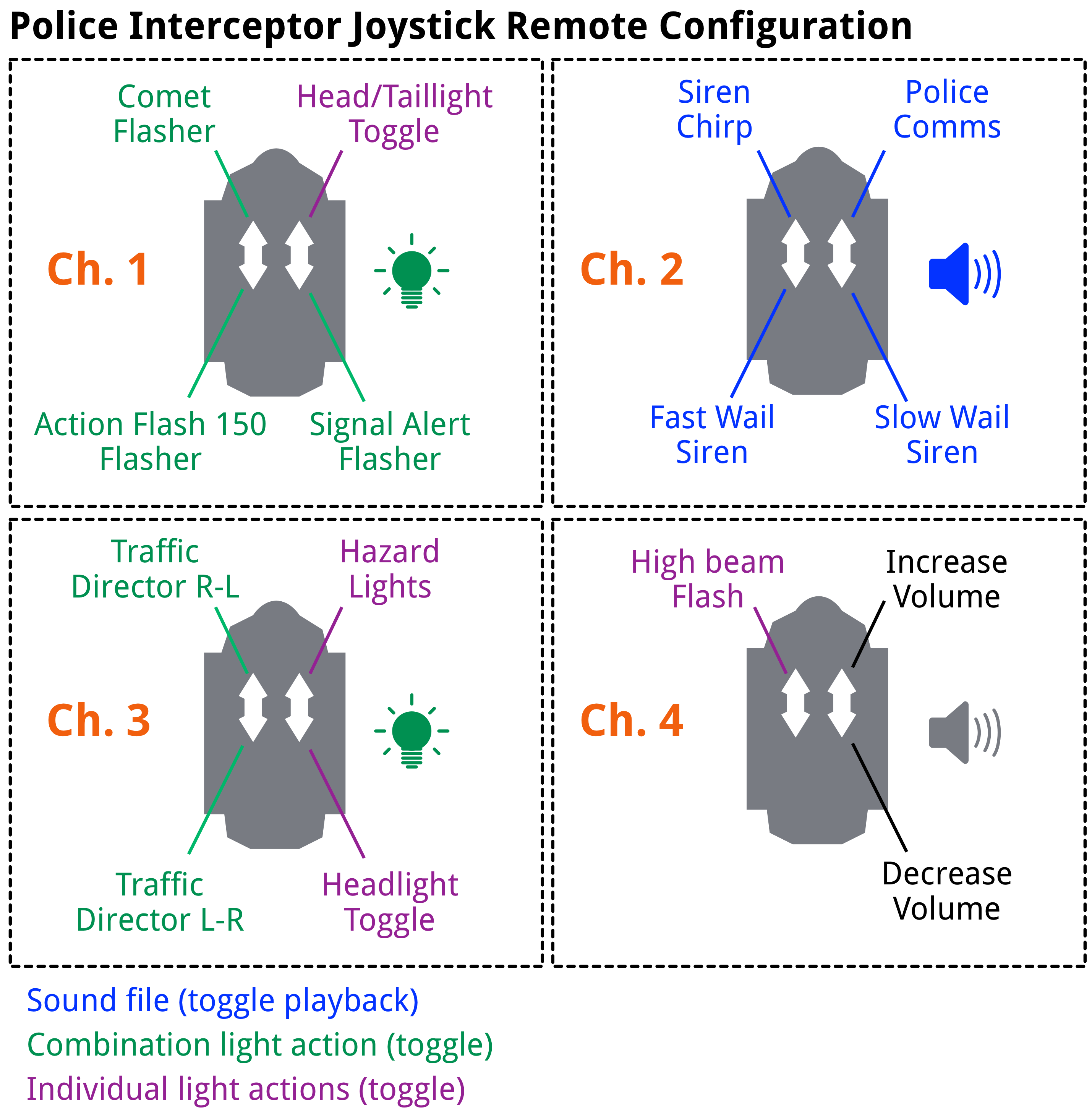 Take your creations to the next level