2021 has been a very exciting year for us and there's a lot more good news to come! Firstly, we are so thankful and encouraged by the response to our Fx Track
...
March 3, 2017 Filed in:
Info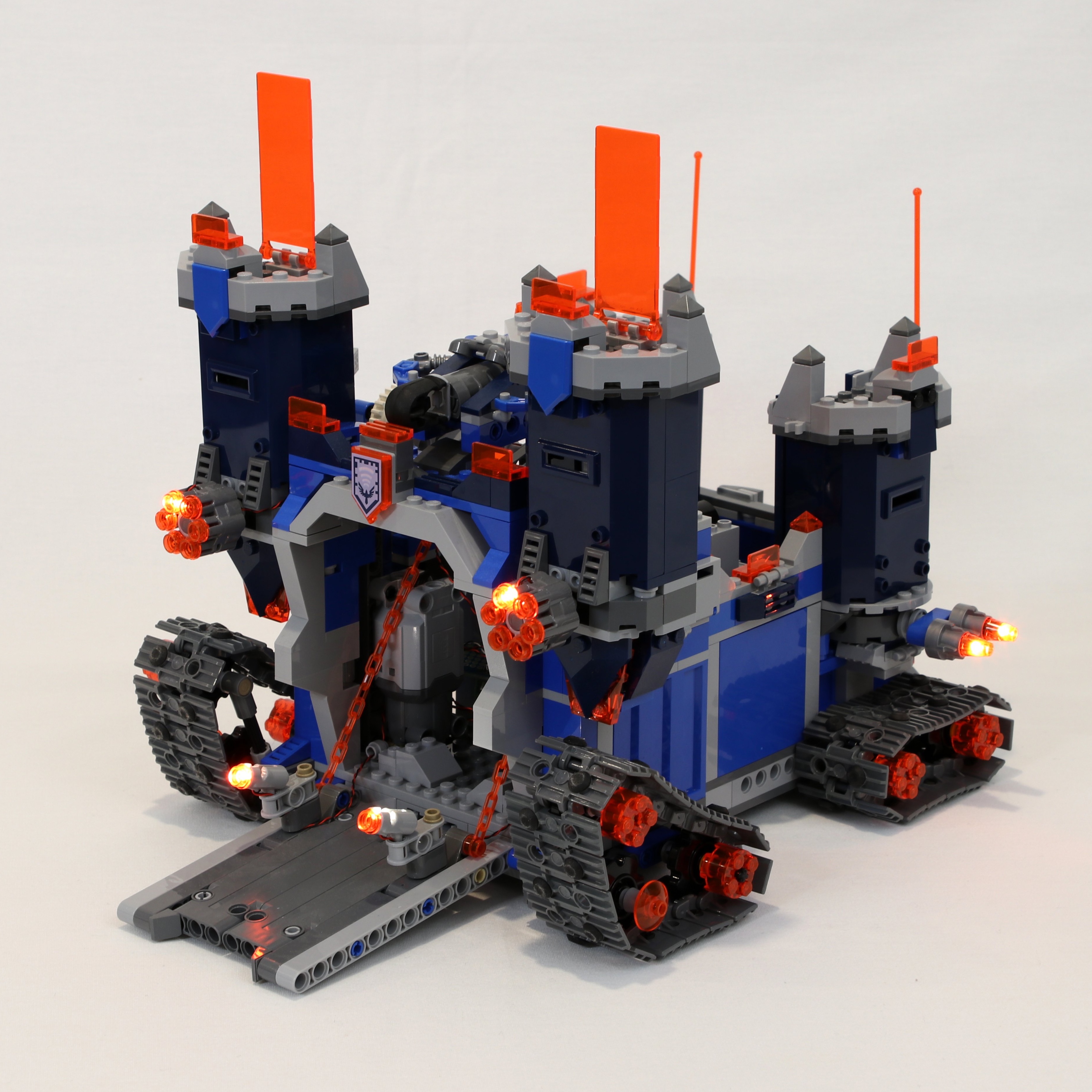 The next set we tested the PFx Brick with was the Nexo Knights Fortrex (set #70317). For this model, we wanted to show how the PFx Brick can work side by side with the regular Power Functions IR Receiver to control more than 2 motors.
We built 3 motors into the Fortrex: 2 PF L-Motors to drive each of the front tracks and a PF M-Motor to raise and lower the gate. The 2 L-Motors are controlled by a standard PF IR Receiver, set to listen to channel 1. The PFx Brick is configured to ignore channel 1 and only respond to activity on channels 2, 3 and 4 of the Joystick Remote. This still gave us plenty of available commands to trigger cool light and sound effects.
Channel 2 is configured to trigger coordinated light and sound for the lasers. Each time one of the joysticks is pressed forward, LEDs in the front lasers turn on for 0.5 seconds and a matching laser sound is played. When the left joystick is pulled back, LEDs in the side lasers light up with a continuous 'Alternate Flashing' effect to match a repeating 'Rapid Fire' audio playback. Each time the joystick is pulled back this coordinated effect will toggle on and off. When the right joystick is pulled back all of the audio and lighting effect are stopped.
Just like in our Wall-E modification, Channel 3 controls the playback of four different audio files, individually triggered by pushing or pulling each of the joysticks. Of course, for this model we loaded various sound bytes from the Nexo Knights mobile game onto the PFx Brick. Since the Fortrex is a reasonably sized model, we were also able to build in an XL-Speaker, to really add some oomph to the audio playback.
Channel 4 is configured to control the M-Motor using the left joystick, for raising and lowering the drawbridge.
We designed the PFx Brick to work seamlessly with the Power Functions system, and it was really great to see how easy it was build a model using both the standard PF IR Receiver and the PFx Brick.