2021 has been a very exciting year for us and there's a lot more good news to come! Firstly, we are so thankful and encouraged by the response to our Fx Track
...
August 12, 2017 Filed in:
News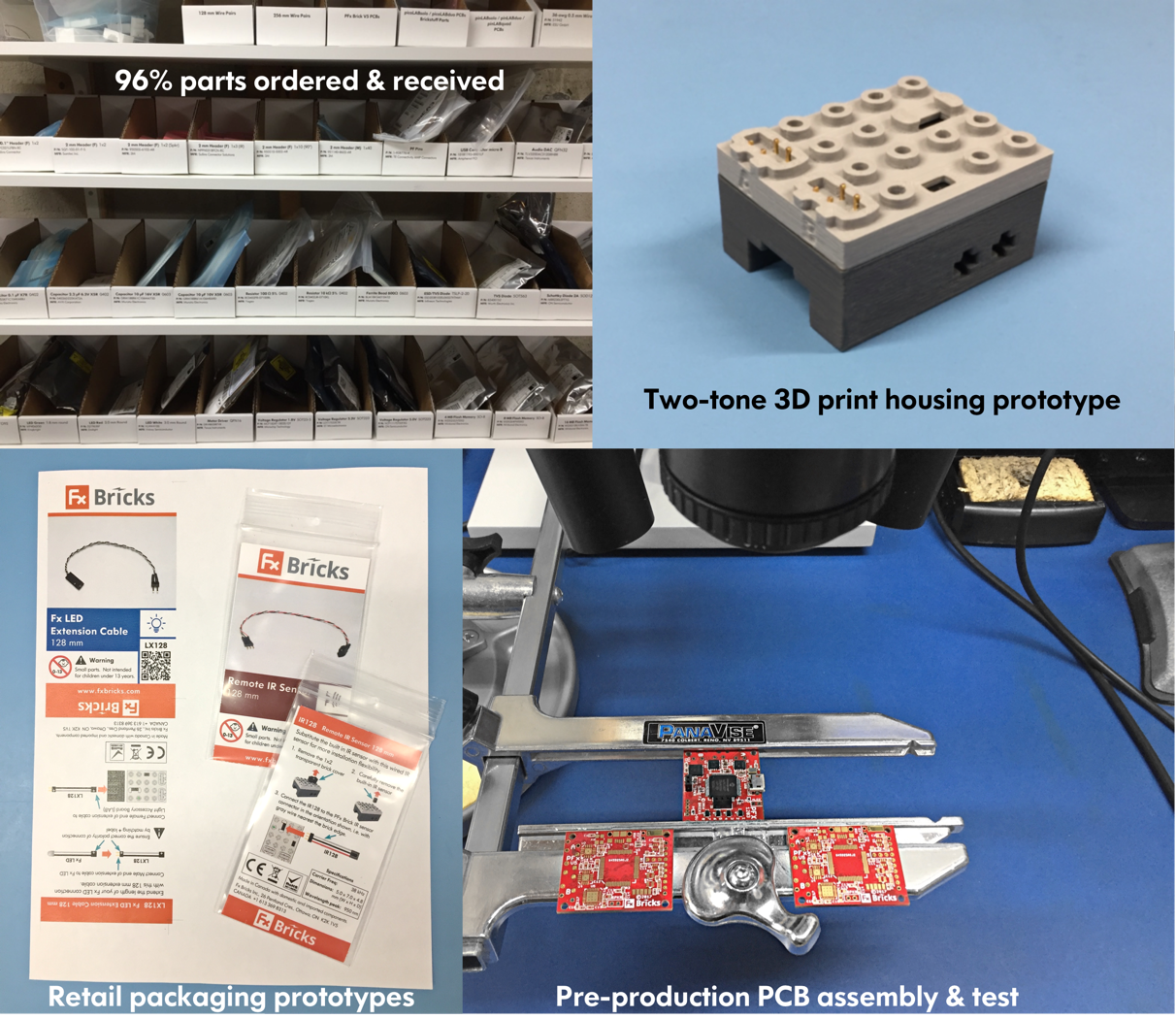 Its been a very busy summer for us! Getting the PFx Brick project in motion has required a great deal of time and energy and a lot more will be required to keep up the momentum! We want to give you an update to let you know what we have achieved and the status of the project.
1. Reward Surveys: All surveys were sent out late June and we have received 389 out of 410 surveys (95%). Please take a moment to complete your survey if you have not done so already, it will help us with more precise production quantities.

2. Add-ons & Store: Since opening the store, we have been really amazed by the activity. Kickstarter backers have added another 461 items to our production queue by adding everything from additional bricks, upgrades, and add-on accessories. We have also received orders for an additional 102 items from folks outside the Kickstarter campaign. Thanks so much everyone!

3. Purchasing

i. 98% of all the electronic components have been ordered, with around 96% received already. Unfortunately, we have long lead delivery notices for the Bluetooth modules and some of the Flash memory devices. We've been told to expect them Sep-Oct depending on factory supplies. For the flash memory, we are sourcing alternative compatible devices to speed up delivery.

ii. All of the picoLEDs have been ordered from Brickstuff including the add-on quantities offered during July.
iii. All Light Accessory Boards (LABs) modules have been ordered for manufacture by our Chinese supplier.
4. PFx Brick Volume Production: We have completed our design for the volume production panel for the PFx Brick printed circuit board (PCB). This panel not only allows for rapid manufacturing, but it also includes customized smart features that let us test and program PFx Bricks directly in the production panel even before they are separated for final assembly! This will dramatically accelerate integration and testing and let us catch assembly defects earlier in the production process.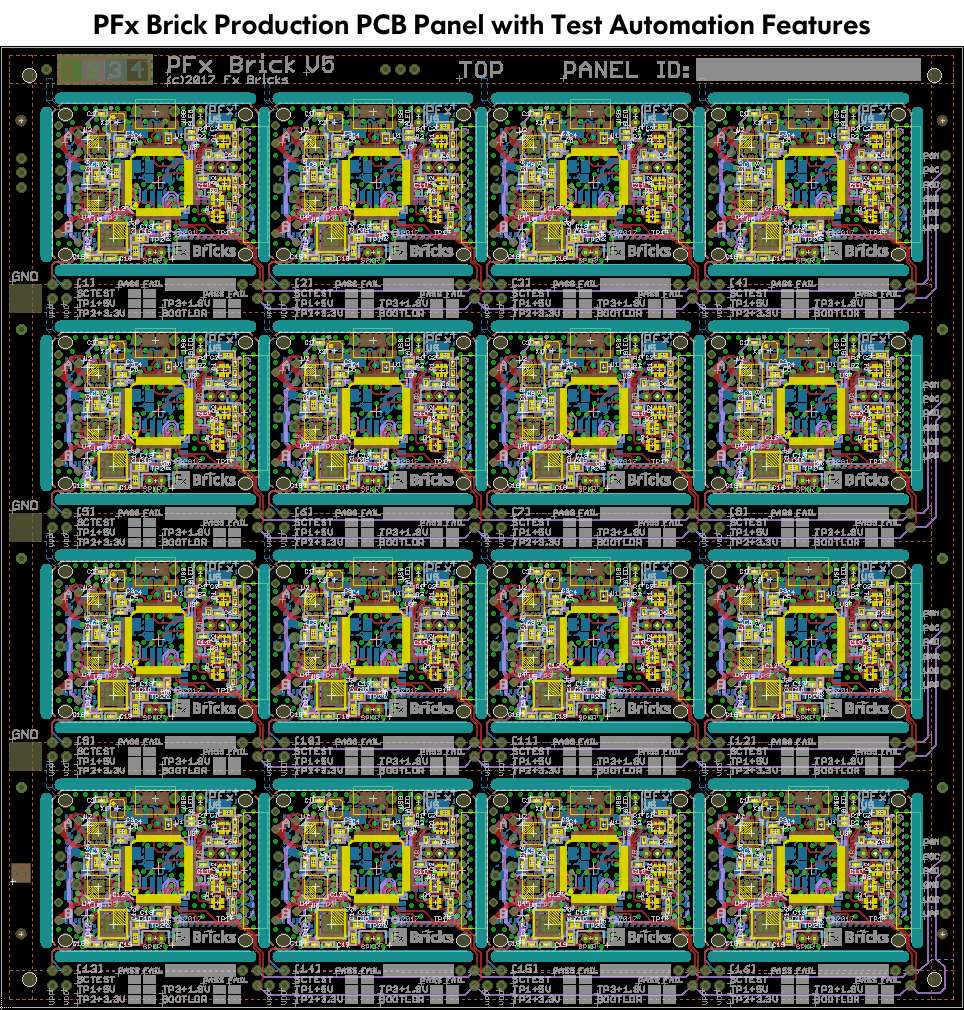 5. 3D Printing: We have just about converged on a final design for the PFx Brick housing from 4DBrix. We think the two-tone (light & dark bluish gray) brick enclosure looks really awesome! We're really lucky to work with a LEGO focused partner like 4DBrix since they implicitly know both the requirements of functional LEGO elements and the capabilities of the ABS 3D printing process.
6. Retail Packaging: We have finalized the design for the various retail packaging required for our products. We think the design is crisp and clean with all of the required regulatory and safety markings. The packaging design and colour scheme is consistent with the online store for a harmonious product portfolio image.

7. More accessories: We have added some additional accessories to the store including:

4x packs for Fx LEDs and Fx LED extension cables
512 mm lengths for LED and Speaker extension cables
We're really excited to get the PFx Brick into production and we'll continue to work hard to deliver them to you as soon as we can!

June 21, 2017 Filed in:
News
We think 421 must be our lucky number! We had 421 awesome backers on our last campaign, and now we have to thank another 421 awesome backers for making the PFx Brick a reality! Of the 421, we would like to especially acknowledge the repeat backers who came back and supported us on this campaign. It is your faith in this project which made it all possible and gave us the motivation to launch again.
We're going to be opening our web store very soon to start accepting pre-orders on the PFx Brick as well as its associated accessories. Many of you were wondering about getting multiple rewards for your pledge. We're going to try to make this happen using the Kickstarter reward survey platform as best we can. Also, if you want to add more items to your reward (now that your pledge is locked in)--you will be able to do this on our web store with a special coupon code which will alert us to add it to your reward and combine the shipping. More details will follow once we get the system up and running.
We're super-excited to get the production of the PFx Brick going! We will have a lot to do in the next few weeks, and will do the best we can to respond to your questions and feedback--even if it might take us a little longer to do so!
June 1, 2017 Filed in:
News
Our new Kickstarter campaign launches Jun 1, 2017 and will run for 20 days until Jun 21. Please go to our Kickstarter campaign page to find out more and pledge your support to make the PFx Brick a reality!
Since the conclusion of our Kickstarter campaign in April, we have been very busy regrouping our efforts to relaunch a new Kickstarter campaign for the PFx Brick. Here's what we have been working on:

1. PFx Brick V4 Prototype

We have completed all of the hardware design modifications to incorporate the Bluetooth radio chipset as well as some additional changes to improve the PFx Brick EMC immunity. We are currently testing the new V4 circuit boards.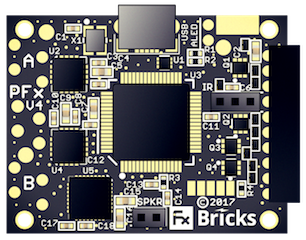 2. PFx Brick Cost

Our initial Kickstarter campaign was designed around the cost to produce 1000x PFx Bricks. We did not acheive this goal, but it did inform us that the demand was closer 500x PFx Bricks. On this basis we re-computed all of PFx Brick production costs and it reveals the following:

Producing 500x bricks increases the cost of the PFx Brick by 25% ($65 USD to $80 USD)
The increase in cost is mainly due to the one-time costs of injection molding and certification. These costs contribute more per unit since they can not be amortized over the same number of units. Additionally, purchasing electronics for 500x units does not attract the same volume discounts as 1000x units. This also increases the per unit cost.

Therefore, the only action we can take to keep the cost the same is by substituting injection molding with 3D printing. On this basis, we can keep the cost of the PFx Brick the same as before:

Ideally, we would have preferred to have an injection molded brick enclosure; however, our volumes cannot justify this expense. We will have a stretch goal for injection molding corresponding to sufficient volume to justify this production method.

3. 3D Printing

By adopting a 3D printed enclosure, we wanted to ensure the resulting product was going to have sufficient quality and functional performance as injection molding. To that end, we have found a 3D printing partner which perfectly satifisies our goals:
4DBrix
. 4DBrix currently sells a range of high quality ABS plastic LEGO® compatible monorail and train track components. Therefore, they understand the functional requirements of plastic components particular to working with LEGO® elements; namely, clutch power, tolerance, colour, and durability. We have worked very closely with 4DBrix to adapt the PFx Brick enclosure and the speaker accessories to optimally take advantage of their ABS plastic 3D printing process. Furthermore, they can render the PFx Brick in colour-matched versions of light and dark bluish grey in addition to other colours if we wish.
4. PFx Lite Brick

Another strategy to help fund production costs is our decision to offer a lower cost PFx Lite Brick. This product is a PFx Brick designed only for lighting f/x. It has the same enclosure shape, supports the same lighting effects and accessories and is compatible with the PFx App.
Here's a comparison of the PFx Brick models that we are offering in the Kickstarter campaign: