2021 has been a very exciting year for us and there's a lot more good news to come! Firstly, we are so thankful and encouraged by the response to our Fx Track
...
January 12, 2021 Filed in:
News
Happy new year from Fx Bricks! We wish everyone a happy and healthy 2021, especially given the unprecedented challenges of 2020. We are overdue for an update on what's happening at Fx Bricks, so here's what's happening: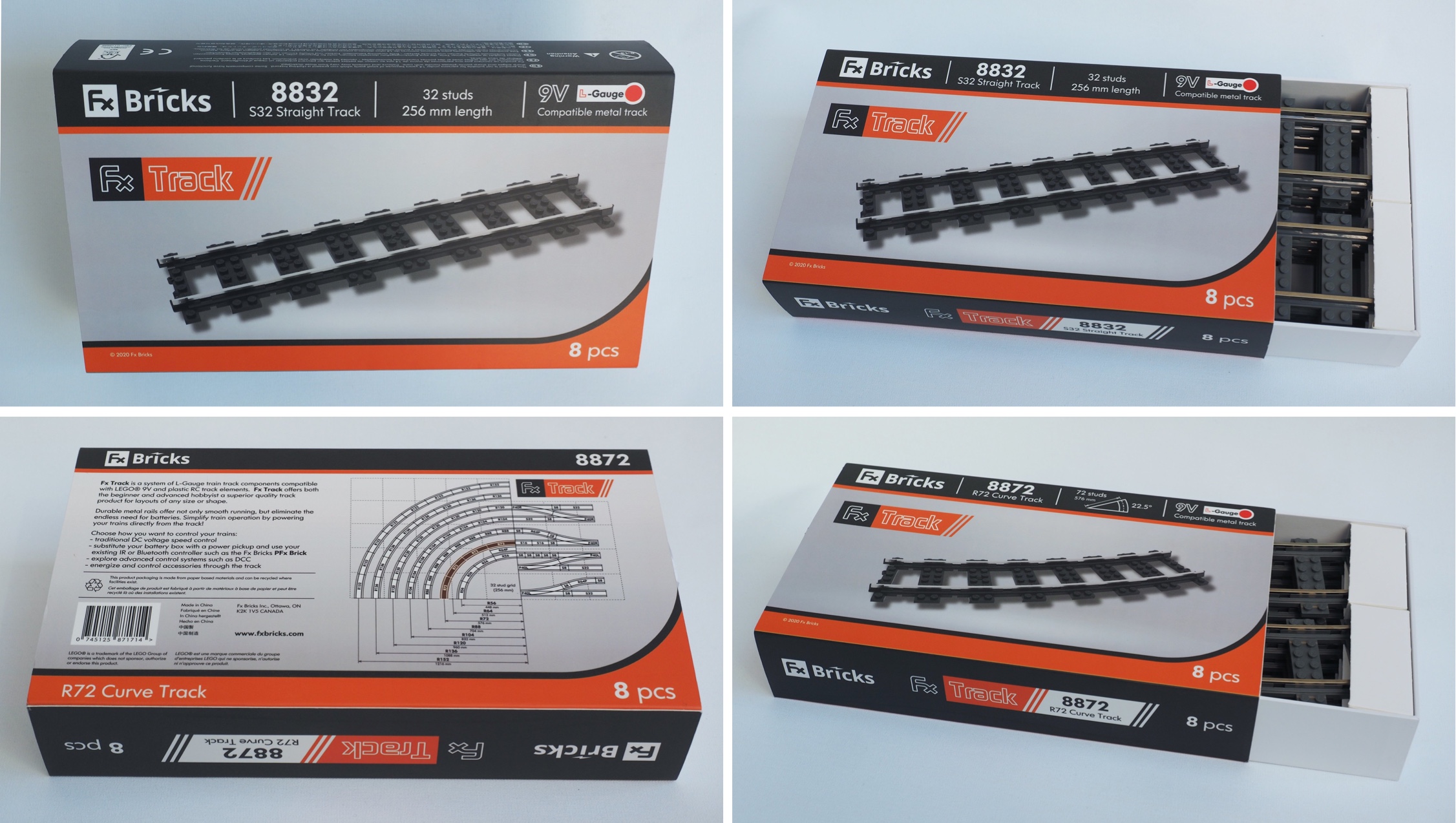 1. Fx Track
We have not added the Fx Track products to the store yet, but we are very very close.

The S32 track elements are in production and we have received partial quantities but not the entire production order. Our supplier for the track elements experienced a partial COVID shutdown in December and is slowly trying to resume its production capacity but is challenged by not having enough available staff. We have cautioned them to not compromise product quality at the expense of schedule (which happens in China) and have said that we would rather wait for quality rather than faster.

We have received all of the retail packaging. As both the product and the packaging arrive in our Hong Kong office, it is inspected and packed into retail boxes. When we have enough cartons of retail packaging for distribution, approximately half will be shipped to Canada.

Our plan is to start distribution from both our Canada and Hong Kong office. Orders will be dispatched from either location depending on the costs of shipping and logistics. Based on the distribution of sales and demand, we will have a better idea of how to distribute inventory. Furthermore, our decision to invest in an EU distributor will depend on sales performance. We expect the EU to be a strong market and we will likely have an EU distributor established as soon as we can.

P40 Switch
We are really excited to announce that the P40 switch is going ahead! We've already started the process with our manufacturing partners. It is difficult to appreciate the level of complexity and investment required to make a product of this calibre. Each P40 switch consists of at least 36 components in both ABS plastic and metal. Furthermore, it requires a skilled assembly team to put them together into its final form. We don't want to make firm schedule commitments given the current world situation, but we're aiming to have at least pre-production prototypes to show for summer 2021. The resulting track switch is an item of beauty and mechanical elegance!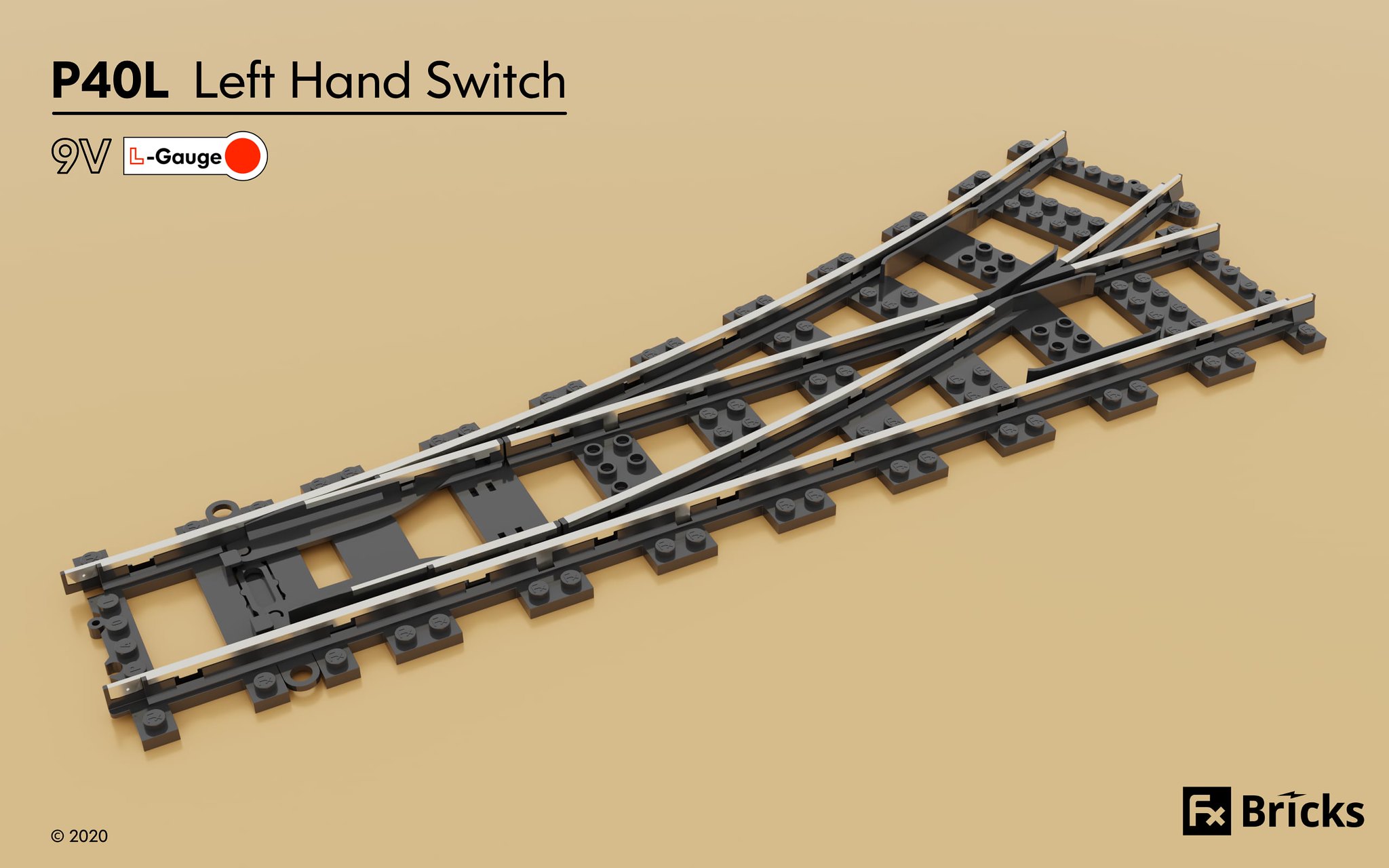 Motors, Power Feeders, Etc.
It might be stating the obvious, but releasing a metal track system does not make sense unless we can "complete the circuit" with elements which can both deliver and pickup power! Therefore, we've already started on the product design for both a power feeder element and metal wheel motor bogie. Our current plan is as follows:
Motor Bogie - this is clearly a priority. It will be designed in the same "plug and play" form factor as the LEGO 9V and Power Functions motor bogie. It will be easily configured to operate "JUMPERED" (power pickup connected directly to the motor) or "SEPARATED" (power pickup and motor terminals electrically isolated and available at one or more connectors). JUMPERED mode is offers the same plug and play operation as the retired LEGO 9V motor bogie and supports simple voltage speed control. "SEPARATED" allows users to pickup power to energize a third party controller such as PFx Brick, SBrick, etc. or NMRA DCC decoder and have the motor controlled by the external controller. We also plan to make a power accessory that picks up power from the track and simultaneously energizes a PFx Brick and recharges an optional on board battery. This way, you have the best of both worlds! A train which can get power from the track for recharging or operation AND be capable of operating on non-energized plastic track! Furthermore, the battery will act like a UPS (uninterruptable power supply) and instantly switch over due to momentary power interruptions or dirty track.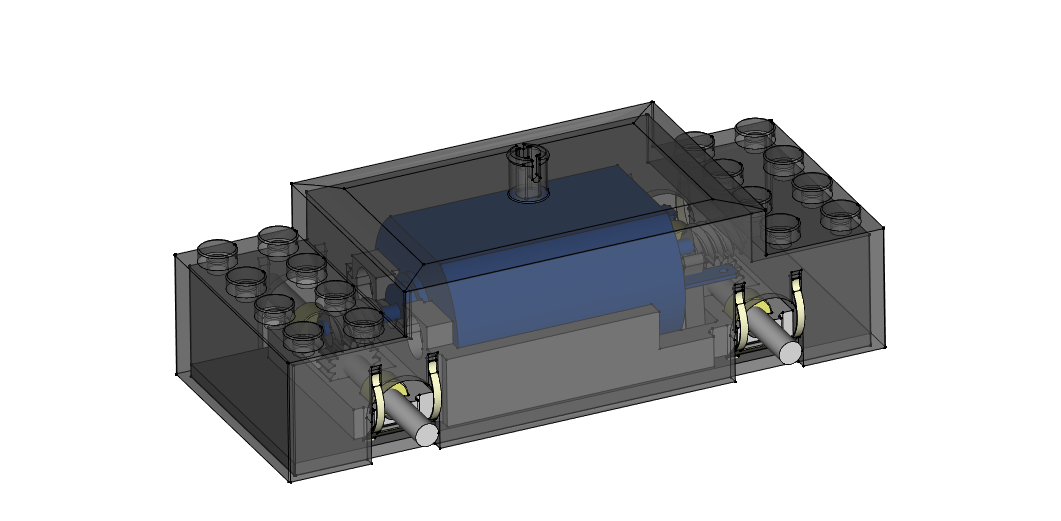 Metal Wheelsets - We definitely intend on offering standalone metal wheels both for power pickup and as replacement wheelsets for plastic. This will happen after the motor bogie, since we believe that is a priority.
Power Feeder - We will either provide an element similar to the retired LEGO 9V feeder and/or a dedicated wired track element (based on the S8 straight) to deliver power. The dedicated track element will also be designed to be an switchable "Isolating" element for use in sidings or partitioning power "districts" on your layout.
Speed Regulator - Last on the list will be a dedicated speed regulator element similar in form factor to the retired LEGO 9V speed regulator but with advanced technology features such as: continuously variable speed control, 12V/9V operation, 3A current rating, overload protection, fixed voltage outputs for accessories, and much more. We also also see this as basis to make "docking" control elements to build your own "control panels" similar to the retired LEGO 12V system. We're still brainstorming the details on this concept, but feel free to let us know what you think or if you have any suggestions or ideas!
2. Current Orders

Sorry we're not getting orders shipped faster. We are working hard to process them as fast as we can. We have had a recent surge in orders during the Holiday Season and we've also been very busy preparing for the release of the Fx Track products. As you can imagine, our resources are being stretched very thin. We are looking into hiring additional help, but even looking for people takes time! We thank you for your support and will indulge in your continued patience as we get through the backlog.
3. Firmware and Software Updates
We're just about to release a new version of our programming guide (Interface Control Document) to v.3.38. This will coincide with both a firmware update to the PFx Brick and an update to the desktop PFx App. Some of the new features in this release include:
upgraded sound effects, in particular for the gated playback modes
support for the new push button "touchLAB" accessory (to connect NXT, EV3 and DIY pushbuttons) to trigger actions
new scripting language features such as variables, loops, motor acceleration, and more
future support for RGB LED accessories, including the ability to specify colour for any of the existing lighting effects per channel!

We've also prepared a PFx scripting language "cheatsheet" document available from our site. This will help folks build their own customized scripted behaviours, store them on the PFx Brick, and activate at any time.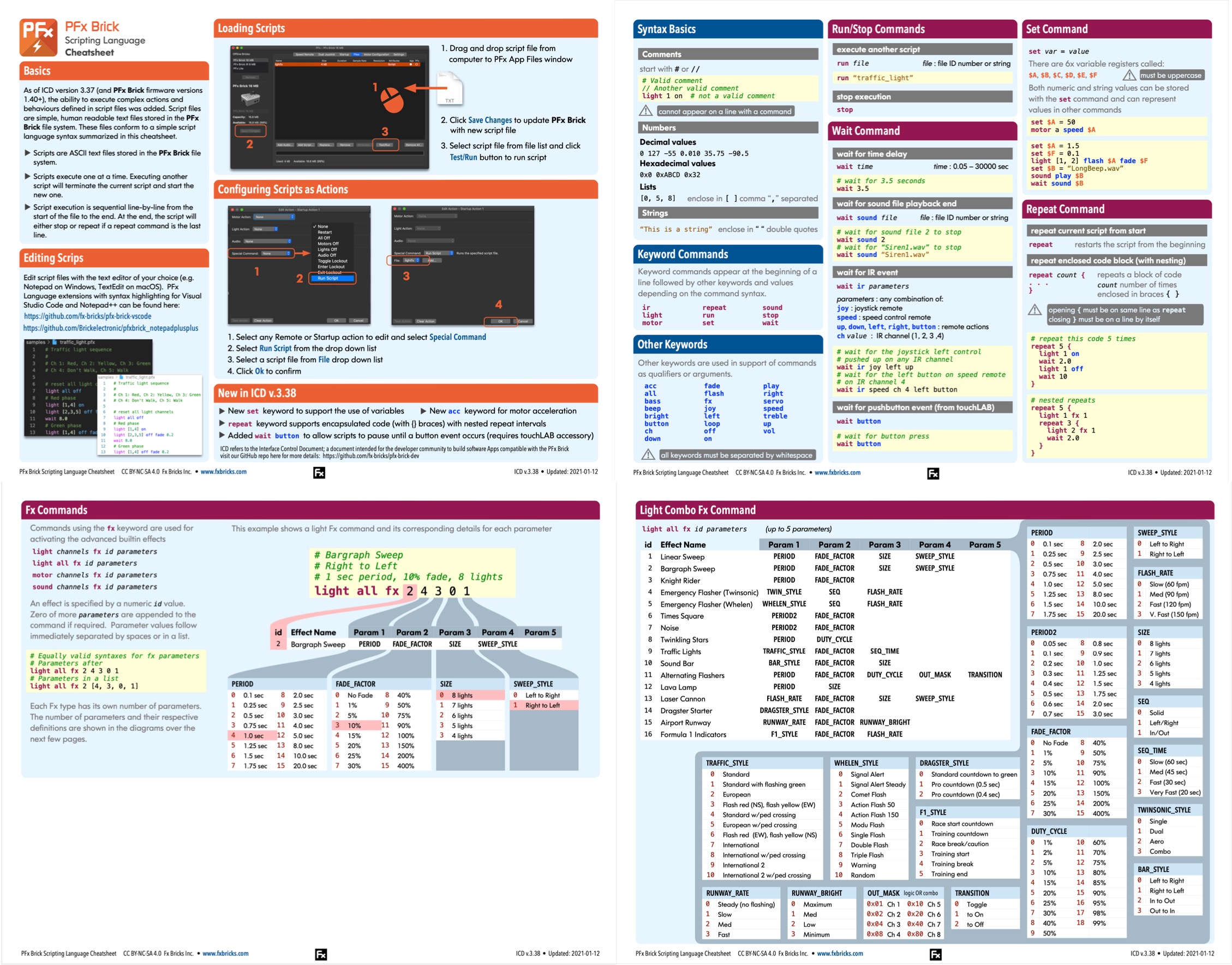 Stay tuned to our site! In the meantime, visit our documentation resources page for links to developer documentation and other items.

4. M Speaker
The first production batches of both the M and XL Speakers were 3D printed. We have sold out of both these speakers. We decided to invest in injection molded speaker enclosures for future versions of the speaker bricks starting with the XL speaker. The new injection molded XL Speaker is now in the store.

We will eventually manufacture the M speaker with injection molding, but we are not ready to commit to when it will be available. We were planning for later in 2021, but we have received so many inquiries and requests for the M Speaker, that we may have to expedite its manufacturing and release. The CAD models are already prepared and the molding is ready to go to manufacturing. It is simply a matter of priorities and costs.
Thank you!
Thanks again to all of our customers--we really appreciate your support. We can't tell you how much we appreciate and marvel at all the cool models and creations you've shared with us which use a PFx Brick! Please keep sending us your creations--we'd love to put a showcase gallery on our site to share your amazing work! We look forward to a busy but very productive 2021 and also wish you both a happy and creative year!