2021 has been a very exciting year for us and there's a lot more good news to come! Firstly, we are so thankful and encouraged by the response to our Fx Track
...
March 29, 2020 Filed in:
News
The scope and impact of the COVID-19 pandemic is unprecedented and will be felt by all of us in the coming weeks and months. I want to reach out personally on behalf of Fx Bricks to reassure all of our customers and friends that Fx Bricks will continue to fulfill orders and keep developing exciting new products.
Over the past few weeks, Fx Bricks has been monitoring the global situation and adapting to the new challenges that we all face. Although this update is overdue, I hope that our valued customers and fans will gain confidence in our ability to progress through these difficult times.
1. PFx Brick Pre-orders
In mid February, Fx Bricks accepted pre-orders for the new production batch of PFx Bricks. These new PFx Bricks include the much anticipated injection molded brick enclosure. The current status of the PFx Brick pre-orders is as follows:
- All electronics assembly is completed for more than 1000 units
- 100x units are currently in the final assembly and test pipeline
- New product packaging has been ordered and received
- The tooling of the brick enclosure mold was completed before the Chinese Lunar New Year, however the Covid-19 situation prevented our manufacturer from starting production
- Last week, our manufacturer completed a pre-production batch of the brick enclosures (shown below) prior to authorizing the final production quantity of 3000 units
- Once we approve the pre-production parts, full production of 3000 units should only take 2-3 weeks to complete and again, we will keep everyone informed of our progress

2. Accessory orders
All orders of accessory products such as Speakers, LEDs, IR sensors, etc. are being manufactured and should hopefully be shipped very soon. Note, this only applies to orders which do not include pre-order PFx Bricks, only accessory products.
3. Fx Track System
Prior to the Covid-19 situation, our goal was to debut our new Fx Track L-Gauge metal track system at Brickworld Chicago in June. Although Brickworld Chicago has not been officially postponed or cancelled (as of Mar 27), we feel that the health and safety of our fans and customers, as well as the general public, is best served by not attending public AFOL events for at least the next few months.
Even though we have decided against a public debut, we remain fully committed to releasing the Fx Track system in the summer 2020 time period. As a minimum, we plan on releasing the following Fx Track system items at launch:
- S8 straight track
- S32 straight track
- R72 curved track
- R88 curved track
This will soon be followed by the R56, R104 curved tracks and the S16 straight track later this year.
The Fx Track system product that we are the most excited to reveal is the P40 left and right track switch. The P40 switch finally offers Lego train fans a premium quality high performance track switch comparable to track products available from the world's very best model train manufacturers. Our switch has been meticulously engineered by combining design principles from actual railway civil engineering and optimized by a powerful software design tool developed by Fx Bricks. Our custom software CAD tools allow us to develop track system components with levels of precision, tolerance, and consistency impossible by traditional design methods.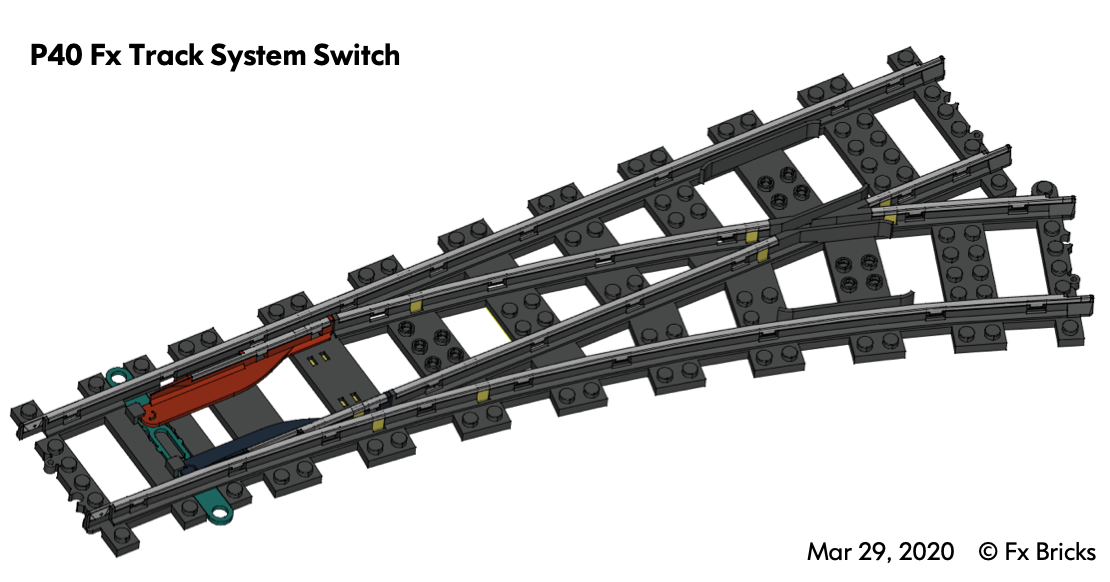 We will be submitting our CAD models of the P40 switch to our manufacturing partners for validation and costing shortly. We are very proud of the P40 switch and can't wait to make it available to Lego train fans everywhere.
Lastly, we have made the most of the past few weeks of uncertainty to completely renovate and expand our laboratory space. We have reorganized our laboratory to improve production throughput, to increase inventory storage and to dedicate more space to research and development. Our lab is fully equipped with state-of-the-art electronic test equipment supporting our ambitious product development goals. Our Hong Kong based team has recently completed the design and fabrication of a new Lego train demonstration layout. The layout is based on a modular system of self-standing furniture which packs entirely into a pair of compact flight cases and can be shipped anywhere in the world. This will enable us to showcase our Fx Track system at events around the globe. Indeed, until global travel resumes, our layout remains "grounded" but we look forward to sharing it with fans someday soon.
In these trying times, we hope that you and your family remain safe and healthy. For many of us, committing to social distancing and increased time at home can perhaps be an opportunity. Maybe now is a good time to explore a creative project, learn a new skill, or maybe it is as simple as indulging in an unopened Lego set. Either way, engaging a creative hobby can offer us all modest comfort in these turbulent times.
Michael Gale
President, Fx Bricks